Sony BVW-D600 Camcorder - Black
---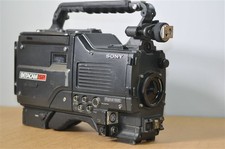 $749.00Free shipping
Est. Aug. 3 - Aug. 10 deliveryFrom Miami, Florida
Great Prices on Camcorders
$409.99

Trending at $434.95

$160.00

Trending at $199.95

$169.99

Trending at $178.01

$697.65

Trending at $799.00
About this product
Product Identifiers
Brand

Sony

Model

BVW-D600

Family Line

Sony Betacam
Key Features
Storage Type

Removable (Card/Disc/Tape)

Media Format

Betacam SP
Most relevant reviews
by

Works well for me, would recomend to someone that had some knowlegde of it.

This camera is in a class of it's own, I own several production cameras, D30's , DXC 537A, Block Cameras DXC 970, DXC 755, The BVW D600 to be as old as it is , overall will put out a better image. I own 2 of these camera and use one at my church, Now I have DSLR's and other cameras HV20 , GL1 which are no contest at all to this camera. Also I'm just recording to DVD, the color and the image the signal that these cameras generate prosumer and comsumer cameras can't match. You need to have some knowledge of these older cameras to get out of them what they were made to do. Most folk are getting away from these older cameras, however, I am going to use them until I can't .

by

Have picked up a few of these but prefer the WS version

Although an older standard definition analog camera, the BVW-D600 has the reputation of being the best of it's time. Originally selling for $60,000, they were used in documentaries, electronic new gathering and commercial work. I still enjoy shooting with this great old workhorse. And given the right conditions, the SD footage upconverts nicely.
Add one to your vintage camera collection!