Sonic & Knuckles Collection Jewel Case (PC, 2000)
---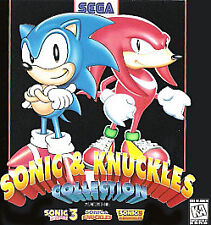 $4.99+ $3.00 Shipping
Est. Aug. 1 - Aug. 9 deliveryFrom Culpeper, Virginia
Top Selling in Video Games
About this product
Product Information
Product Information

What can you do if you have thrown away your Sega Genesis, but you still have a hankering for some heavy duty Sonic the Hedgehog action? Well, if you have a Windows-based PC, you can fire up the Sonic and Knuckles Collection, featuring Sonic 3, Sonic and Knuckles and Sonic 3 and Knuckles.

The evil Dr. Robotnik is on the loose again, and he has enslaved the animals of Sonic's world, forcing them to turn against the loveable hedgehog and his traveling partner, Tails the Fox. It is up to the high-speed duo to liberate the animals and destroy Dr. Robotnik's metallic creations.

Our hero, Sonic, has a few new tricks up his sleeve for this series of games. He now has his crouch-and-spin move which can give him some much needed speed to break through walls, run through loops, or scamper across disintegrating bridges. Sonic also has a mini-shield which can be used briefly during any point of the game.

Tails the Fox can use his helicopter tail action to softly land after jumps. This gives him the ability to avoid obstacles on the ground that might be hidden at the beginning of a jump. Like Sonic, Tails can also crouch and spin to get through blocked areas or gain necessary speeds for loops and bridges.

This collection of Sonic games introduces Knuckles the Echidna. His gripping action sets him apart from the other two playable characters in the collection. Knuckles can climb up many structures within the games. Knuckles is only a playable character in Sonic 3 and Knuckles and Sonic 3 and Knuckles. He makes an appearance in Sonic 3, but he is there mainly as a roving rogue with no particular purpose.

Players can run the Sonic and Knuckles Collection in windowed mode or full screen mode. It supports both joystick and keyboard play. Players can save up to six games for play in multiple sessions.
Product Identifiers
Publisher

Xplosiv

Game

Sonic & Knuckles Collection [Jewel Case]

MPN

081656068200

UPC

081656068200,5017783016963
Key Features
Platform

PC

ESRB Rating

KA - Kids to Adults

Genre

Action, Adventure,Compilation

Location

USA
Tech Details
Control Elements

Gamepad/Joystick,Keyboard,Mouse

Number of Players

1

Release Year

2000

Game Special Features

Three complete Sonic titles for your PC in one package


Spin and bash your way through 24 vast zones


Save slots for up to six players


Two-player split screen competition


Includes free Sonic-themed screensaver



Game Series

Sonic the Hedgehog Series