Son of Flubber (VHS, 1997, Comedy Favorites Series)
---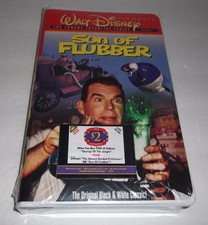 $8.78Free shipping
Est. Feb. 18 - Feb. 23 deliveryFrom Louisville, Illinois
About this product
In this madcap sequel to Disney's THE ABSENT-MINDED PROFESSOR, Medfield College's most talented inventor Ned Brainard (Fred MacMurray) develops "Flubbergas" amidst a series of wacky adventures. In addition to broken windows and flying athletes, Brainard must contend with indoor rainstorms! The real challenge comes, however, when Brainard must save Medfield College from the nefarious land developer Alonzo Hawk (Keenan Wynn).


Product Highlights
Video Trailer:
Product Details
Edition:
Comedy Favorites Series
Number of Tapes:
1
Rating:
G (MPAA)
Film Country:
USA
Sound:
HiFi Sound
UPC:
786936047752
Additional Details
Genre:
Comedies
Format:
VHS
Display Format:
Comedy Favorites Series
Most relevant reviews
by

Son of Flubber with Fred McMurray

This is an awesome movie. Son of Flubber has the original characters of Flubber is great watching. If your are tired of the new TV stuff and the foul language then you should watch this movie. It is definately a classic. McMurray is funny and dumb as alot of characters he played in his time.

by

Superb Sequel

Often, it seems, sequels lack the substance of the original movie. While "Son of Flubber" has substance, it lacks the freshness of the first film. The most entertaining scene is "Shakespeare" Shelby treated to a tempest in his station wagon, superb comeuppance. Whether the struggling professor will find his own affairs all washed up is the main plot advanced in the story, resolved only in the final minutes of the film by the disclosure of a surprising side-effect of exposure to flubbergas-induced rays--economy-sized veggies, enough to make the Jolly Green Giant blush.

There, you have it. Now, the weather forecast for the whole of the country--a noreaster of good family fun from Disney!