Solitary Man by Carly Phillips and Karen Drogin (2004, Paperback)
---
OUR TOP PICK
delivery
Est. Sep 2 - Sep 16From Mishawaka, IN
Returns
Buyer pays return shipping
---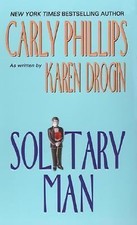 $3.97 Buy It Now
Free shipping

$2.97 Buy It Now
Free shipping
Great Prices on Fiction & Literature
About this product
Synopsis
Synopsis

First published in 1999 under the New York Times bestselling author's real name of Karen Drogin, this sizzling romance tells the story of a Boston cop who doesn't expect an attempt to comfort the sister of his mortally wounded partner to become a night of blazing passion.,Thanks for picking u Solitary Man, first published in 1999 under my real name, Karen Drogin. A departure in tone from my Carly Phillips books, this is the story of one man's search for himself, and the love that helps him find his way.Boston cop Kevin Manning vowed to look after his mortally wounded partner's sister, never expecting the fulfilment of his promise to culminate in a night of passion - along with complication she just wasn't ready for. Month's later, confronted with the unexpected consequences of his actions, Kevin is about to learn that being strong doesn't have to mean being alone . . . and that doing the right thing begins with opening your heart to every possibility . . .
Product Identifiers
ISBN-10

0758206623

ISBN-13

9780758206626
Key Details
Author

Carly Phillips,Karen Drogin

Number Of Pages

288 pages

Format

Paperback

Publication Date

2004-09-01

Language

English

Publisher

Kensington Publishing Corporation
Dimensions
Weight

4.9 Oz

Height

0.8 In.

Width

4.3 In.

Length

6.8 In.
Classification Method
LC Classification Number

PS3554

Dewey Decimal

813.5/4

Dewey Edition

21
Most relevant reviews
by

Solitary Man

I just recently started reading Carly Phillips, and I have enjoyed every book that she has been envoled with.
This item doesn't belong on this page.
Thanks, we'll look into this.