Seagate Momentus XT 750GB,Internal,7200 RPM,6.35 cm (2.5") (ST750LX003) SSHD (Solid State Hybrid Drive)
---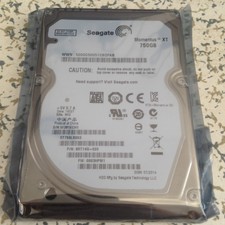 $72.12+ $7.87 Shipping
Est. Aug. 9 - Aug. 29 deliveryFrom default, default
Top Selling in Internal Hard Disk Drives
Great Prices on Internal Hard Disk Drives
About this product
Description
Description

The Seagate Momentus XT 750 is an internal hard drive with dimensions of 0.9 x 7 x 10 cm and a weight of 110 g. This device uses a SATA 6.0 Gb/s interface and a 32 MB cache memory. Its size and weight makes it light and easy to carry, if necessary. This Seagate hard drive has a hefty storage capacity of 750 GB. This Seagate hard drive has a spindle speed of 7,200 RPM. The storage capacity, the cache memory and the speed allows efficient storage and prompt retrieval (both sequential and random) of music, videos, photos and other material. The Seagate HDD has no fan and therefore it is almost silent when operating. Optimised for PC usage, the Seagate Momentus XT 750 provides maximum storage options. It has a data transfer rate of 300 MB/s. This Seagate hard drive is very economical in power consumption too, as it consumes only 2.2 W of power. With all these features the Seagate Momentus XT 750 is a light weight, easily carried and a useful hard drive that can be operated anywhere with ease.
Product Identifiers
Brand

Seagate

Model

Momentus XT

EAN

715663215684
Key Features
Enclosure

Internal

Hard Drive Type

SSHD (Solid State Hybrid Drive)

Capacity

750GB

Buffer Size

32MB

Spindle Speed

7200 RPM

Interface

SATA III,SATA SSD

Designation

Laptop Computer
Technical Details
Platform

Mac,PC

External Data Transfer Rate

600 Mbps

Form Factor

2.5",2.5" x 1/8H

Seek Time

11 ms

Average Latency

4.17 ms
Most relevant reviews
by

Great drive but check if it works.

Great drive, but although is claimed to be working with old macbook (2009) on my ealry 2009 MAcbook pro 17" 2.8 (core 2 duo) the drive was freezing, and pausing every now and then. After alot of digging realised that the drive is not compatible with such systems.

STILL, the idea of hybrid drive is amazing, and I wish it could be used with my current laptop. Discarding the pauses, the drive was superior, lightweight and faster than normal HD

by

Great price, great capacity, super fast.

Considering that the price of an SSD right now is around £1 per gigabyte, the value that comes from a hybrid is second to none.

My Macbook pro went from booting in 30 seconds, to booting in 14 once the Momentus XT was installed. Programs boot faster and the storage capacity is huge.

I would recommend this to anyone who finds an SSD either out of their price range or too small a capacity for their needs.

by

Worthwhile upgrade to an old machine

Speeds up everything, booting, apps etc. Almost as good as an SSD but much less money and higher capacity. Despite what Googling might suggest - fitted seamlessly in my Macbook running Mountain Lion.