Scrapbooking with Cricut (2010, Paperback)
---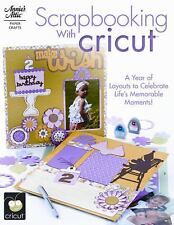 $10.94Free shipping
Est. Aug. 2 - Aug. 15 deliveryFrom Franklin, Tennessee
About this product
Synopsis
Synopsis

Licensed by the makers of Cricut and organized chronologically by month, this crafters companion contains 36 creative and colorful scrapbooking ideas for the most popular holidays and occasions throughout the year. With detailed step-by-step instructions, beginning and experienced scrapbookers will find plentiful inspiration for using Cricut to help capture memories--traditional holidays, a first birthday, a special sports moment, or a dream vacation--on paper. With a variety of themes to help crafters create keepsakes that can be treasured for years to come, this resource also includes a buyer's guide and a list of designers.
Product Identifiers
ISBN-10

1596353236

ISBN-13

9781596353237
Key Details
Number Of Pages

64 pages

Format

Paperback

Publication Date

2010-06-28

Language

English

Publisher

Annie's Publishing, LLC
Additional Details
Copyright Date

2010

Illustrated

Yes
Dimensions
Weight

8 Oz

Height

0.2 In.

Width

8.5 In.

Length

11 In.
Classification Method
LC Classification Number

TT910

Dewey Decimal

745.593

Dewey Edition

22
Most relevant reviews
by

Scrapbooking with Cricut

Good little book with some nice ideas. I would recommend this book as a good deal. I plan to use some of the ideas in many of my future layouts, etc. I, of course, would like more layouts, etc. but there are now a couple of good Cricut magazines with ideas that come out every other month.

by

Scrapbooking w/ Cricut

I really expected the book to be filled with more ideas, as well as being lengthier. I am really happy that I didn't pay more for it, as other vendors were selling it for even more!!!