Sayonara Home Run! : The Art of the Japanese Baseball Card by Gary Engel and John Gall (2006, Paperback)
---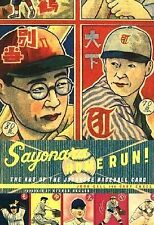 $12.99+ $3.22 Shipping
Est. Feb. 12 - Feb. 20 deliveryFrom Appomattox, Virginia
About this product
Synopsis
North American interest in Japanese baseball is huge. Taking a fresh approach to this popular sport, Sayonara Home Run! uses the country's playfully beautiful baseball cards to discuss the great players, history, social context and differences in the Japanese game.

With talented young Japanese players signing to the American Majors, interest in Japanese baseball is at an all-time high. Sayonara Home Run! introduces curious fans to Japan's national pastime through the lens of the country's playfully beautiful baseball cards. A fascinating text traces the roots and cross-cultural history of the Japanese game, while hundreds of illustrations showcase gorgeous vintage cards. Woven throughout are profiles of key Japanese players, features on important U.S. team tours of Japan (with Japanese cards of players such as Babe Ruth and Joe DiMaggio), and insights into the social history of the cards. Including primers on Japanese player nicknames and baseball terms, and the fine points of the Japanese game, Sayonara Home Run! is a must-have for anyone interested in baseball, Japan, or this unique chapter in popular design.


Product Identifiers
ISBN-10
0811849457
ISBN-13
9780811849456


Key Details
Author
Gary Engel, John Gall
Number Of Pages
192 pages
Format
Paperback
Publication Date
2006-02-16
Language
English
Publisher
Chronicle Books LLC


Additional Details
Copyright Date
2006
Illustrated
Yes


Dimensions
Weight
16 Oz
Height
1 In.
Width
1 In.
Length
1 In.


Target Audience
Group
Trade
Grade From
Eighth Grade
Grade To
College Graduate Student


Classification Method
LCCN
2005-016671
LC Classification Number
GV875.3.G35 2006


Contributors
Foreword by
Steven Heller


Most relevant reviews
by

Great Introduction!!

I found this book to be a great introduction to the history of Japanese baseball cards. I learned much about the history of baseball, its own stars and the baseball cards produced in Japan. In addition, the examples of Japanese baseball cards depicted helped promote the cards as truly artistic in nature. I have always had an interest in Japanese baseball cards and this book gave me a good basis to continue collecting these types of cards. An easy read that I couldn't put down until I finished. I recommend this book to anyone who is interested in learning the basics about Japanese baseball cards.

by

A True Collector "Must-Have"!

Any "True" collector would appreciate owning this book on Japanese Baseball Trading Cards. Pages are all in top grade and thick paper stock with excellent color. An exceptional book on the history of Japanese Professional Baseball Cards and what you need to know about collecting them. Terrific!!!