Sagebrush Brides : Love Rules the Ranch in Four Complete Novels by Carol Cox (2004, Paperback)
---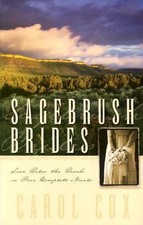 $0.99+ $3.99 Shipping
Est. Jul. 29 - Aug. 5 deliveryFrom Oklahoma City, Oklahoma
---

$3.97 Buy It Now
Free shipping

$3.97 Buy It Now
Free shipping
About this product
Synopsis
Synopsis

Established author Carol Cox offers four faith-filled romances that bring together two families in the historic Southwest. The Bradleys and Canfields are ready to tame the territories-but these young settlers are unprepared to be lassoed by love. Judith, abandoned on the Santa Fe Trail, puts her life in the hands of rough cowboys. Lizzie's blossoming womanhood attracts two men and forces her to make a hard choice. Rachael, managing a farm and a sister, wonders who she can trust to help her. And Violet joins a rancher to find the guardian of three children, testing how far she is willing to go for a stranger.
Product Identifiers
ISBN-10

1593104359

ISBN-13

9781593104351
Key Details
Author

Carol Cox

Number Of Pages

464 pages

Format

Paperback

Publication Date

2004-08-01

Language

English

Publisher

Barbour Publishing, Incorporated
Classification Method
LCCN

2004-596908

LC Classification Number

CPB

Dewey Edition

0
Most relevant reviews
by

SageBrush brides

Has great history for being fictional with hope and very inspiring and an easy read. Also lots of suspense and action.