Roving Mars (DVD, 2007)
---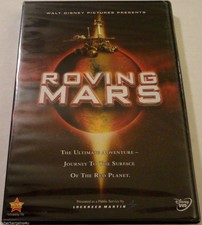 $5.95Free shipping
Est. Feb. 18 - Feb. 25 deliveryFrom Belle Fourche, South Dakota
About this product
Follow the adventures of NASA's rovers Spirit and Opportunity as the robotic vehicles explore the surface of Mars and transmit images back to Earth. With a score by Philip Glass (THE HOURS, NOTES ON A SCANDAL) and an introduction by Paul Newman, ROVING MARS recounts the preparation behind the rovers' seven months in space and its Mars landing in January 2004. The mission is illustrated in detail, with a mixture of actual footage, computer animation, and information provided by NASA scientists.


Product Highlights
Video Trailer:
Product Details
Number of Discs:
1
Rating:
G (MPAA)
Film Country:
USA
UPC:
786936292619
Additional Details
Genre:
Education/General Interest
Format:
DVD
Most relevant reviews
by

Excellent and very interesting documental.

I like everything all about sciences, specially space, paleontology and geology. Another themes are in relatioship with buddhism.

by

Roving Mars

IMAX film about the building, launching, landing, and running of the Mars rovers. It was fun in the theater and still works well on the television screen. The pictures of Mars taken by the rovers are the highlight of the movie; they have a you-are-there feel to them and are vivid. Bonus features include a how-the-movie-was-made video and an old Disney documentary about Mars from the late 1950s. It is fun to meet on a more personal basis some of the people who made the movie, as well as some of the people who worked on the rovers. The 1950s Disney documentary is also entertaining. This DVD is good family viewing.