Rising Zan: The Samurai Gunman (Sony PlayStation 1, 1999)
---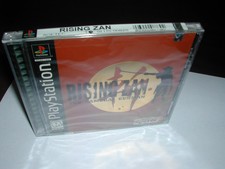 $15.99+ $3.99 Shipping
Est. Aug. 2 - Aug. 9 deliveryFrom McKinney, Texas
Great Prices on Video Games
About this product
Product Information
Product Information

In the 1800s, young Johnny was in search of adventure. While investigating a series of mysterious disappearances near a local ravine, he was thrown from his horse by an unknown being. After quickly pulling out his six-shooter and firing a couple of rounds into the air, he was then rendered unconscious by the mysterious figure.

After coming to, Johnny discovered that Suzuki had saved his life; the hero had been a lifelong friend of his father's. With a burning desire to become a hero, he begged his savior to teach him the ancient Zipang form of fighting. Suzuki agreed and a few days later, the two had left town and headed east.

Johnny returned many years later to his home in the west, only he was no longer known by his real name. He's a hero now; a gunman and a dangerous samurai. He's the blue-eyed Super-Ultra Sexy Hero Zan! Unfortunately, his town is now being invaded by an evil group of ninja assassins called Jackal. Its time to kick butt and put that Zipang training to good use!

Played from a third-person perspective Agetec's Rising Zan: The Samurai Gunman has you utilizing a sword and a six-shooter to rid the town of the cultists intent on stealing the town's supply of gold. You'll slash and shoot your way through 10 levels crammed with a variety of ninjas, sumo wrestlers, straw men, and henchmen in an attempt to bring down the root of all evil -- the Queen Jackal.

Over the course of his studies, Zan learned many unique combinations and special attacks that will help you progress through the enemy infested levels. As you cut down your foes, the protagonist gains hero points that can be used to channel power into his sword and move at a higher rate of speed. Zan also has the ability to block or bounce back an opponent's attack.

After completing each level, Zan is rated on his performance. The higher the rating achieved, the more hero badges he'll receive. Upon completion of the game, the hero badges can then be used to unlock additional gameplay modes and special rewards.

Rising Zan: The Samurai Gunman requires one memory card block in order to save game progress. It also supports analog controllers and the vibration function.
Product Identifiers
Game

Rising Zan: The Samurai Gunman

MPN

093992087302

UPC

093992087302
Key Features
Platform

Sony PlayStation 1

ESRB Rating

M - Mature

Genre

Action, Adventure

Location

USA
Tech Details
ESRB Descriptor

Animated Blood, Animated Violence

Control Elements

Gamepad/Joystick

Number of Players

1

Release Year

1999
Most relevant reviews
by

Not bad for an early Stylish Combat game.

A few years before Devil May Cry, there was this hidden gem on the PS1 which did many of the same things that people found so revolutionary about DMC, with its Style rankings, "Power Up" mode that uses a bar of power that's restored by fighting enemies, and the type of moves you could do in combat. Even the campy humor is here, which is a treat to watch. The catchy theme song doesn't hurt either. While several cutscenes are voiced in English, during the gameplay cutscenes, the villains all have that sort of Banjo-Kazooie/Okami style garbled voices

The visuals have a good sense of color design, and its easy to determine what and where everything is, despite the limited polygonal models of the era. The combination of Spaghetti Western and old Japanese aesthetics makes it feel like a Kurosawa movie on drugs. There are some hiccups, mostly in 2D assets that disappear at the right angle. You could be walking up an outdoor stairway, and the 2D banister can just vanish and appear again as the camera swings around. And, of course, it has lots of that PS1 wobbly environments that always bothered me.

The most unfortunate thing about the game is the controls, which are kinda stiff. Doing Zan's special moves requires double tapping the d-pad or control stick before pressing X, and it often doesn't register well. What makes it worse is the lock-on feature. It's like Zelda's Z-targeting, except three times slower to actually lock-on to the enemy. Not only that, if the enemy jumps over you, it breaks the lock. It's definitely the toughest thing to get used to.

Not to say that the controls aren't well mapped, because I think they are. They are explained in a decent, optional, tutorial stage, and you can always replay the chapter you just finished whenever you want to try for a better 'sexiness' ranking. Yeah, you read that right.

Overall, its a really interesting game if you like Stylish combat games like DMC, Bayonetta, or Ninja Gaiden. Interesting in the sense that this kind of game came out a few years before the one that put the sub-genre on the map. Its campy and fun enough that I say it's enjoyable, but only if you can get used to the controls.Read full review

Verified purchase: Yes | Condition: New

by

One-of-a-kind game!

This game is a classic and is unique in every way. Hilarious and entertaining, this is a rare gem. The storyline cannot be taken seriously as it is clearly all for fun in many ridiculous ways. Check this one out!