Reba #1's by Reba McEntire (CD, Nov-2005, 2 Discs, MCA Nashville)
---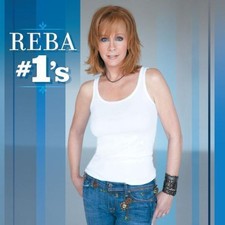 $9.41Free shipping
Est. Feb. 16 - Feb. 23 deliveryFrom Sheperdsville, Kentucky
About this product
Album Features
UPC:
602498847220
Artist:
Reba McEntire
Format:
CD
Release Year:
2005
Record Label:
MCA Nashville
Genre:
Contemporary Country, Country
Number Of Discs:
2
Track Listing
DISC 1:
1. You're Gonna Be
2. Can't Even Get the Blues No More
3. You're the First Time I've Thought About Leaving
4. How Blue
5. Somebody Should Leave
6. Whoever's in New England
7. Little Rock
8. What Am I Gonna Do About You?
9. One Promise Too Late
10. The Last One to Know
11. Love Will Find Its Way to You
12. I Know How He Feels
13. New Fool at an Old Game
14. Cathy's Clown
15. Walk On
16. You Lie
17. Rumor Has It
DISC 2:
1. Love Needs a Holiday
2. For My Broken Heart
3. Is There Life Out There
4. The Greatest Man I Never Knew
5. It's Your Call
6. The Heart Won't Lie
7. Does He Love You
8. Till You Love Me
9. The Heart Is a Lonely Hunter
10. And Still
11. Time on Her Hands Ring on Her Finger
12. The Fear of Being Alone
13. How Was I to Know
14. If You See Her If You See Him
15. Forever Love
16. What Do You Say
17. I'm a Survivor
18. Somebody
Details
Playing Time:
124 min.
Producer:
Reba McEntire, Tony Brown, John Guess, Harold Shedd, Jimmy Bowen, Jerry Kennedy, Tim DuBois, David Malloy, Norro Wilson, Buddy Cannon
Distributor:
Universal Distribution
Recording Type:
Studio
Recording Mode:
Stereo
SPAR Code:
n/a
Album Notes
Personnel: Reba McEntire; Jerry McPherson, Kenny Greenberg (guitar, electric guitar); Jim Kimball (guitar); Jim Kimball (acoustic guitar); Tammy Rogers King (fiddle); Spady Brannan (bass guitar); Greg Morrow, Tommy Hardon, Tommy Harden (drums); Perry Coleman (background vocals); Bruce Bouton (steel guitar); Jimmy Nichols (piano, background vocals); Doug Sisemore (keyboards); Eric Darken (percussion); Jenifer Wrinkle (background vocals).Audio Mixer: Derek Bason.Liner Note Author: Reba McEntire.Recording information: Starstruck, Nashville, TN.Photographer: Ron Davis .With her own her own TV sitcom and a recording career that dates back to the late 1970s, Reba McEntire is undisputedly one of country music's most popular entertainers. Although there have been numerous collections of McEntire's singles, this two-disc set is the first to span more than 20 years of her hits. With the exception of two new recordings (the thoughtful "You're Gonna Be" and the energetic "Love Needs a Holiday," which appear at the beginning of the first and second discs, respectively), this compilation moves chronologically from 1982 to 2005, presenting 35 of Reba's finest moments. Every track benefits from her powerful voice and charming Oklahoma drawl, whether she's easing into the traditional "How Blue" or the pop-tinged "And Still." A well-selected release, #1'S is an excellent overview of Reba's impressive catalog, and is ideal for both newcomers and longtime fans.