Radioactive [PA] by Yelawolf (CD, Nov-2011, Ghet-O-Vision)
---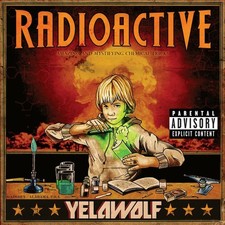 $8.42Free shipping
Est. Jul. 27 - Aug. 3 deliveryFrom Sheperdsville, Kentucky
Great Prices on CDs

About this product
Album Features
UPC:

602527834979

Artist:

YelaWolf

Format:

CD

Release Year:

2011

Record Label:

Ghet-O-Vision

Genre:

R&B,Southern Rap
Details
Playing Time:

57 min.

Contributing Artists:

Kid Rock,Eminem,Mystikal,Lil Jon,Killer Mike,Gangsta Boo,Poo Bear,Fefe Dobson,Priscilla Renea,Mona Moua,Rittz,Shawty Fatt

Producer:

Andrew VanMeter

Distributor:

Universal Music

Recording Mode:

Stereo

SPAR Code:

n/a
Most relevant reviews
by

I had hoped for a much better from Yelawolf, C- at best.

After listening to both versions of Trunk Muzic where almost every track was good with a few excellent ones I was disappointed in Radioactive. There are really only 2 or three tracks I liked (Let's Roll, Hard White and Slumerican Shitizen)and I had high expectations for this talented artist that fell way short after listening to the whole CD for a few days. My advice, get the tracks that you like off of iTunes and get both Trunk Muzic Mix CD's if you really want to see how talented Yelawolf really is.

by

Great cd

Great cd,bought it for the song with kid rock singing on it...overall great cd.would recommend this if you like Kid Rock.