RIN: Daughters of Mnemosyne: Complete Series - Classic (DVD, 2010, 2-Disc Set)
---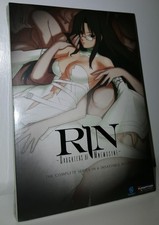 $39.99Free shipping
Est. Jul. 28 - Aug. 4 deliveryFrom Napa, California
Most relevant reviews
by

Walt Disney, this is not.

To start, this is only available as a region 1 DVD boxset for any British purchasers.(NB: It is now available as a Region 2 boxset.)

Set over a 65 year period, we learn the story of Rin Asogi, a female private eye in the district of Shinjuku. Along with her partner Mimi, she investigates all manner of cases, both usual and unusual. Oh yea, she is immortal, thanks to a "time spore" that is in her body. She can be put through all kinds of hell, and she is in all 6 episodes. This includes being shot, stabbed, sucked into a jet engine and operated on. She then recovers, albeit with one hell of a headache. (Apart from the jet engine, where she loses her memory)

The main bad guy is APOS, who wants to control the tree from which the 'time spores' come from. Will he? be successful? Will Rin save the day?

This is not your run of the mill anime. There is violence aplenty, sexual content, torture and scenes that might remind you of anime from the 80's and early 90's. Apart from that the story moves along at a fast pace.

The boxset comes with trailers for other anime movies, opening and closing textless credits, and promotional videos for the series.

I enjoyed this story, but be prepared for what you see.Read full review

by

Rin, an amzing series

this was one of the best series i have ever watched. as an otaku i believe that the daughter of mnemosyne was one of the best dvd experiences that i have had thus far. it was full of action, romance and even mystery. the art itself was laos very impressive. i would reccomend it to anyone who loves anime.l

by

confusing title

normally i don't watch yuri anime but this one has a very good story line kinda confusing at first but it becomes understandable, the animation quality is good and the opening and ending songs are incredible, it takes anime back to the good old days of ultra-gore and sexual situations, lol but i digress this show is a must see.