RCA EZ1000 Camcorder - Black
---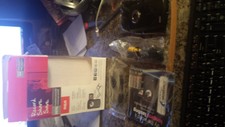 About this product
Product Highlights
Video


Product Identifiers
Brand
RCA
Model
EZ1000
UPC
0044476069505


Key Features
Optical Zoom
None
Digital Zoom
3x
Storage Type
Removable (Card/Disc/Tape)
Media Format
Flash Card
Resolution
0.3 MP
Screen Size
1.5"
Weight
11.2 Oz.


Exposure
Exposure Modes
Automatic, Program


Memory / Storage
Supported Flash Memory
microSD Card


Viewfinder
Viewfinder Type
None


Display
Display Type
LCD
Screen Details
LCD display - TFT active matrix - color
Display Size
1.5"


Microphone
Microphone Type
Microphone - built-in - electret condenser - mono
Microphone Operation Mode
Mono


Battery
Battery Form Factor
Standard form factor


File Format
Still Image Format
JPEG


Miscellaneous
Color
Black
Shooting Modes
Digital Photo Mode


Most relevant reviews
by

Great

My 11 year old nephew loves it! He can easily use it and understands it completely. Great item for a kid.

by

Good value

We've all used the camera and had a lot of fun with it.
It's very easy to use and quality of the reproduction is better then you would think.
Very easy to operate t and carry.

by

Poor Video Quality

I used a new camera with a 2 gb micro SD card and found the video quality to be very poor compared to other cameras of its type that I have used.