QuickFix - Total Mix: Combination Yoga & Pilates Workout (DVD, 2001)
---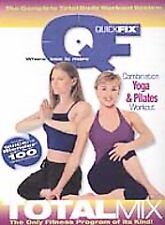 $5.85+ $2.99 Shipping
Est. Aug. 2 - Aug. 9 deliveryFrom 46016
Top Selling in DVDs & Blu-ray Discs
Great Prices on DVDs & Blu-ray Discs
Most relevant reviews
by

yoga and pilates

Awesome- like that I can mix up the workouts. I bought this a week ago having taken yoga before but not wanting to go somewhere for a class. I also wanted to incorporate strenght training. With my busy schedule this is great. I can select a variety of workouts pilates or yoga and in ten minute increments so if my time is limited 10 minutes in the morning is all.

by

Good workouts, lots of variety

This is great for those moments you only have a short bit of time to exercise...seems like there are a lot of those these days! The yoga and pilates are both taught well and interesting. This is not, however, power yoga, and moves a little slow, but it will still provide a good workout with plenty of variety.

by

EXCELLENT

EVERYTHING WAS PERFECT..AND THE DVD LOOKS GREAT!!!!!!
PERFECT PACKAGE AND FAST,,AND THE YOGA LEAVES A LOT OF LEVERAGE SO YOU CAN DOIT ACCORDING YOUR OWN PACE...