Psychic Children : Revealing the Intuitive Gifts and Hidden Abilities of Boys and Girls by Lindsay Harrison and Sylvia Browne (2007, Hardcover)
---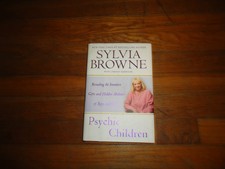 $6.00+ $4.00 Shipping
Est. Jul. 30 - Aug. 4 deliveryFrom Clearwater, Florida
Great Prices on Textbooks, Education
About this product
Synopsis
Synopsis

Like all of us who travel to a strange place from a home we love, children are naturally more connected to Home than to earth when they arrive. They've just made a trip from one dimension to another, after all, so it makes all the sense in the world that they're still tuned to the higher frequency of the Other Side. Of course they can see and hear residents of the spirit world. They were residents of it themselves not long ago. In fact, like all of us, they're far more accustomed to living There than here. I don't care how many times we've reincarnated, or how long each of those incarnations lasted, our total number of years on earth are the blink of an eye compared to our eternity at Home. In computer terms (or so I'm told-computers and I have made a mutual agreement to stay away from each other), the world of the Other Side is our default. Our lives on earth are anomalies. Book jacket.,The respected, world-renowned New York Timesbestselling psychic takes on an intriguing new subject'the psychic abilities of children. Sylvia Browne shares profound stories of how children can be channels to the Other Side. A child's world is comprised of extraordinary things'vivid imaginations, imaginary friends, Zen-like na vet , and a heightened sense of good and evil. In fact, it is now in vogue to proclaim that certain children are a direct channel to God, calling them Indigo Children or Crystal Children. But psychic Sylvia Browne knows these are merely fashionable labels. She recognizes that allchildren have unusual psychic gifts and abilities'including each one of us'but society has been conflicted about those gifts, at times cherishing them and often stifling them over the centuries. Sylvia Browne writes from personal experience. After her own psychic abilities were revealed at age three, her mother tolerated but never encouraged her startling talent. Browne's own son would exhibit psychic abilities of his own as a toddler, which she fully embraced and supported. What Browne has learned over a lifetime is that psychic gifts are present at incredibly tender ages; they are, in her view, special blessings from God. Some children learn to develop them while others are pressed to ignore them. In Psychic Childrenshe illuminates the phenomenon, issuing a call to society for more understanding and acceptance of these remarkable children.
Product Identifiers
ISBN-10

0525950133

ISBN-13

9780525950134
Key Details
Author

Lindsay Harrison,Sylvia Browne

Number Of Pages

288 pages

Format

Hardcover

Publication Date

2007-07-24

Language

English

Publisher

Penguin Publishing Group
Dimensions
Weight

18.6 Oz

Height

1.1 In.

Width

6.3 In.

Length

9.2 In.
Target Audience
Group

Trade

Grade From

12

Age Range

18
Classification Method
LCCN

2007-016090

LC Classification Number

BF1045.C45B76 2007

Dewey Decimal

133.8083

Dewey Edition

22