Prima's Official Strategy Guides: Requiem : Avenging Angel by Joel, Jr. Durham (1999, Paperback)
---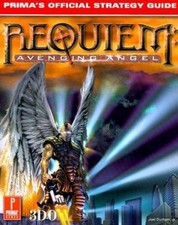 $6.40Free shipping
Est. Jul. 27 - Aug. 9 deliveryFrom United States
About this product
Synopsis
Synopsis

Faithfully detailed maps for every level Heavenly tips and tactics Complete walkthroughs for every single-player mission Diabolical multiplayer strategies Complete guide to secular and non-secular weapons and abilities Malevolent tactics to eliminate every enemy,Learn strategies for the more than 20 powers users earn along the way, details on every monster, item, and weapon in the game, plus more in the official strategy guide.
Product Identifiers
ISBN-10

0761517936

ISBN-13

9780761517931
Key Details
Author

Joel, Jr. Durham

Number Of Pages

384 pages

Series

Prima's Official Strategy Guides

Format

Paperback

Publication Date

1999-04-07

Language

English

Publisher

Random House Information Group
Dimensions
Weight

22.6 Oz

Height

1 In.

Width

7.4 In.

Length

9.2 In.
Classification Method
LCCN

98-073113

LC Classification Number

GV1469.25.R457D87
Reviews
Reviews

And an angel with an automatic shall lead the way . . .