Power of 10 : The Once-a-Week Slow Motion Fitness Revolution by Adam Zickerman and Bill Schley (2002, Hardcover)
---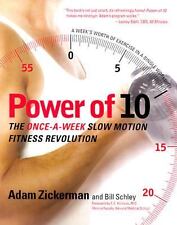 $21.99Free shipping
Est. Jul. 29 - Aug. 5 deliveryFrom Chagrin Falls, Ohio
About this product
Synopsis
Synopsis

If you're one of the millions who are just too busy to get in shape, or think that keeping fit takes endless hours in the gym and depressing diets, we have good news and bad news. The good news: Now you can get in the best shape of your life by working out 2O minutes, once a week, and following the generous eating rules in a program called Power-of-10. The bad news? You've just lost your last excuse! Power-of-10 is a full-blown fitness revolution-based on a remarkably advanced yet simple discovery: By lifting weights in a series of ultra-slow movements that last 10 seconds each, you can stimulate lean muscle formation far more efficiently and safely than regular weight lifting or aerobics. Together with a healthy nutrition plan and a focus on rest and recovery, Power-of-10 is so effective that as little as one 20-minute workout per week is enough to build muscle, burn fat, and improve cardiovascular health at any age. No wonder people find it hard to believe, Until they try their first workout! Best of all, you're about to see why Power-of-10 expert Adam Zickerman is so popular with his clients. He makes it surprisingly fun! Adam guides you step-by-step with workouts for every major muscle group using machines or free weights at the gym, at home, or when you're on the road. Backed by more than twenty years of research, Power-of-10 principles are changing the way America gets in shape. So hang on to your "healthy skepticism." Let Adam show you Power-of-10. And watch it turn to just plain "healthy."
Product Identifiers
ISBN-10

0060008881

ISBN-13

9780060008888
Key Details
Author

Adam Zickerman,Bill Schley

Number Of Pages

224 pages

Format

Hardcover

Publication Date

2002-12-24

Language

English

Publisher

HarperCollins Publishers
Additional Details
Copyright Date

2003

Illustrated

Yes
Dimensions
Weight

24.2 Oz

Height

0.7 In.

Width

7.4 In.

Length

9.1 In.
Classification Method
LC Classification Number

RA781.6

Dewey Decimal

613.7/1

Dewey Edition

21
Reviews
Reviews

This book's not just smart, it's refreshingly funny! Power of 10 makes me stronger. Adam's program works.
Most relevant reviews
by

great info on a full body work out

I bought the book just a few ago and it works great I was looking for something that would give me a full body workout with weights and doesn't take a super long time, and is also mechanically sound...this is a great read and easy to do with less time than usual for such a hardy and full work out!! I REALLY recommend you give it a try!