Power Marketing, Selling, and Pricing : A Business Guide for Wedding and Portrait Photographers by Mitche Graf (2009, Paperback)
---
OUR TOP PICK
delivery
Est. Sep 12 - Sep 22From Australia
Returns
Buyer pays return shipping
---
$3.95 Buy It Now
Free shipping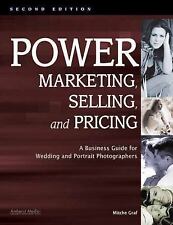 $7.96 Buy It Now
Free shipping

$3.97 Buy It Now
Free shipping
Great Prices on Textbooks, Education
About this product
Synopsis
Synopsis

From creating a strong internet presence and high-quality, eye-catching mailers to ensuring happy customers and promoting word-of-mouth referrals, this indispensable handbook details the multitudinous ways wedding and portrait photographers can supercharge their marketing efforts to bring in more clients and better profits. Containing a step-by-step guide to the power marketing method--a systematic, proactive approach that takes advantage of the best possible resources available--photographers will learn how to understand their customers, identify their hook, and establish program goals and objectives. Five of the biggest and most oft-encountered mistakes made by both new and struggling studios are discussed, as well as how to establish an effective pricing strategy and become comfortable with self-promotion. By incorporating these proven sales and presentation strategies, photographers will be able to put forth their best sales approach, point out the features and benefits of their product, and overcome client objections to close the sale.,Mitche Graf's ever-popular sales, pricing and marketing techniques are incorporated into this guide, ensuring that photographers can successfully generate profit as studio owners. He provides indispensable advice on finding a marketing niche, internet presence, presentation strategies and customer service. Interviews with top industry pros, who share their hard-won tactics and insight, create an inspiring and well crafted how-to guide for improving a struggling business or getting a new business off to a flying start.
Product Identifiers
ISBN-10

1584282460

ISBN-13

9781584282464
Key Details
Author

Mitche Graf

Number Of Pages

143 pages

Format

Paperback

Publication Date

2009-02-01

Language

English

Publisher

Amherst Media, Incorporated
Additional Details
Edition Number

2

Illustrated

Yes
Dimensions
Weight

20 Oz

Height

0.5 In.

Width

8.4 In.

Length

10.8 In.
Reviews
Reviews

"Explains building a strong Internet presence, producing high-quality mailers, and promoting word-of-mouth referrals." -- Professional Photographer
This item doesn't belong on this page.
Thanks, we'll look into this.