Pocket Bomberman (Nintendo Game Boy Color, 1998)
---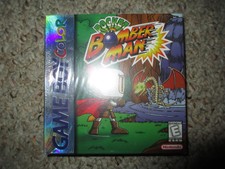 $399.99Free shipping
Est. Aug. 1 - Aug. 5 deliveryFrom Columbus, Ohio
Top Selling in Video Games
Great Prices on Video Games
About this product
Product Information
Product Information

Ages ago, evil Babylon cast a shadow across the land. It was so dark, so thick that sunlight could not pass through. The only thing that could penetrate this shadow and bring the light back into the world was the legendary Sword of the Sun. Knowing all too well the sword was the only hope for salvation, Babylon placed a curse upon it. Now you, as the fabled Bomberman, must face five cruel monsters and capture the five Power Stones to gain access to the Sword of the Sun. All you have is your wits and one bomb to protect you in your quest. Good luck, your world is counting on you!

Developed by Hudson Soft, Pocket Bomberman is not your typical game in the Bomberman series -- it offers two completely different modes on one 8-Meg cartridge. The first is a quest-style game where you have to capture the five Power Stones. There are five realms in total, each spanning five levels and ending with a boss character. Players will progress through the following areas: Forest, Ocean, Wind, Cloud and Evil. By successfully defeating the boss character in each realm, players will be able to save the planet from eternal darkness.

Or if you want, you can play the Jump Mode, which has Bomberman bouncing up and down trying to defeat enemies before time runs out. The goal? To keep moving up a series of screens in order to reach the top of a tower! No matter which game you choose, there will be plenty of power-ups to help you defeat the ancient evil that has cursed your world. Pocket Bomberman also features three difficulty levels designed to offer a challenge for gamers both young and old. Progress can be continued through the use of passwords given at the end of each realm.
Product Identifiers
Publisher

Nintendo

Game

Pocket Bomberman

MPN

045496730765

UPC

045496730765
Key Features
Platform

Nintendo Game Boy Color

ESRB Rating

E - Everyone

Genre

Action, Adventure

Location

USA
Tech Details
ESRB Descriptor

Mild Animated Violence

Control Elements

Gamepad/Joystick

Number of Players

1

Release Year

1998

Game Special Features

Features 25 levels across five themed worlds


Trap and eliminate enemies by flinging bombs


Defeat foes while hopping up and down in the offbeat "Jump Mode"