Pipe Mania (Sony PlayStation 2, 2008)
---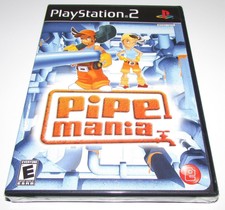 $5.79Free shipping
Est. Jul. 27 - Aug. 1 deliveryFrom Carrollton, Georgia
About this product
Product Information
Product Information

A remake of the classic Commodore Amiga title (later released on many other platforms as Pipe Dream), Pipe Mania is a puzzle game in which players lay down a series of pipe pieces in order to guide the mysterious and constantly moving substance known as Flooze from one end of the puzzle grid to the other. The 2008 version comes with updated visuals, new characters, new non-pipe pieces (roads and assembly lines, for example), and multiples floozes. There are more than 70 levels in all, set across seven themed worlds, and gamers can play in World, Arcade, Bonus, Multiplayer, and Classic modes.
Product Identifiers
Game

Pipe Mania

MPN

744788028350

UPC

744788028350
Key Features
Platform

Sony PlayStation 2

ESRB Rating

E - Everyone

Genre

Puzzle

Location

USA
Tech Details
ESRB Descriptor

Comic Mischief

Control Elements

Gamepad/Joystick

Number of Players

1-2

Release Year

2008

Game Special Features

Build pipe system to guide the Flooze through more than 70 levels


Classic game remade with updated visuals, characters, and pieces


Five different game modes including a full version of the original game


Most relevant reviews
by

Fun, game for kids of all ages

I like that it is easy to use and easy to navigate. The game is great for anyone. It is very kid oriented.