Peter Rabbit: The Complete Adventures of Peter Rabbit by Beatrix Potter (1987, Hardcover)
---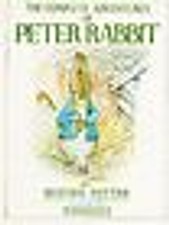 $3.99+ $3.95 Shipping
Est. Aug. 1 - Aug. 8 deliveryFrom FLORIDA
Great Prices on Children & Young Adults
About this product
Product Identifiers
ISBN-10

0723229511

ISBN-13

9780723229513
Key Details
Author

Beatrix Potter

Number Of Pages

80 pages

Series

Peter Rabbit

Format

Hardcover

Publication Date

1987-04-30

Language

English

Publisher

Penguin Publishing Group
Additional Details
Copyright Date

1982

Illustrated

Yes
Dimensions
Weight

21.5 Oz

Height

0.4 In.

Width

8.6 In.

Length

11.3 In.
Target Audience
Group

Juvenile Audience

Grade From

ps

Grade To

3

Age Range

4 - 8
Classification Method
Dewey Decimal

823.9/12

Dewey Edition

21
Contributors
Illustrated by

Beatrix Potter
Most relevant reviews
by

The Complete Adventures of Peter Rabbit by Beatrix Potter

When I was a child I love the stories of Beatrix Potter. When I recieved my book, I couldn't wait to cuddle up in my chair and feel the warmth and love eminating from the precious stories. I was not disappointed! No matter what your age, I guarantee that you will lose yourself in these sweet stories. I have placed it on my coffee table with three little bunnies. Looks cute and I smile each time I see my little vignette.

Verified purchase: Yes | Condition: Used

by

Peter Rabbit book

I bought this book for my granddaughter and haven't seen it myself yet. My daughter says it is lovely and the baby loves it. My experience was great. I was able to buy my granddaughter a nice gift and have it delivered from my home. Super easy!

by

The Complete Adventures of Peter Rabbit

My daughter had this book when she was a child and I wanted to give her first child (she is due the end of April)the same book. Needless to say my daughter was very pleased and can't wait to read to her child.