PSY 255 Health Psychology: Health Psychology : An Introduction to Behavior and Health by Jess Feist, Linda Brannon and Patty Feist (2009, Hardcover)
---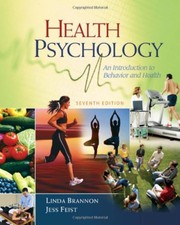 $83.99Free shipping
Est. Aug. 2 - Aug. 9 deliveryFrom US
Great Prices on Textbooks, Education
About this product
Synopsis
Synopsis

For over 20 years, Brannon and Feist's HEALTH PSYCHOLOGY: AN INTRODUCTION TO BEHAVIOR AND HEALTH has remained a leader in the field of health psychology for its scholarship, strong and current research base, and balanced coverage of the cognitive, behavioral, and biological approaches to health psychology. Accessible and appealing to a wide audience, this reader-friendly classic has enjoyed enduring success for its concise writing style and visual program. Now extensively updated to reflect the latest developments in the field, the new Seventh Edition features a stronger emphasis on diversity, additional information on complementary and alternative medicine, coverage of the latest research and cutting-edge technology, and new real-world examples selected for their interest and relevance to today's readers.
Product Identifiers
ISBN-10

0495601322

ISBN-13

9780495601326
Key Details
Author

Jess Feist,Linda Brannon,Patty Feist

Number Of Pages

592 pages

Series

PSY 255 Health Psychology

Format

Hardcover

Publication Date

2009-03-19

Language

English

Publisher

Wadsworth
Additional Details
Edition Number

7

Copyright Date

2010
Dimensions
Weight

36.1 Oz

Height

1.1 In.

Width

7.4 In.

Length

9.3 In.
Classification Method
Dewey Decimal

616/.0019

Dewey Edition

21
Table Of Content
Table Of Content

Part I: FOUNDATIONS OF HEALTH PSYCHOLOGY. 1. Introducing Health Psychology. 2. Conducting Health Research. 3. Seeking Health Care. 4. Adhering to Medical Advice. Part II: STRESS, PAIN, AND COPING. 5. Defining, Measuring, and Managing Stress. 6. Understanding Stress and Disease. 7. Understanding and Managing Pain. 8. Considering Alternative Approaches. Part III: BEHAVIOR AND CHRONIC DISEASE. 9. Behavioral Factors in Cardiovascular Disease. 10. Behavioral Factors in Cancer. 11. Living With Chronic Illness. Part IV: BEHAVIORAL HEALTH. 12. Smoking Tobacco. 13. Using Alcohol and Other Drugs. 14. Eating and Weight. 15. Exercising. Part V: LOOKING TOWARD THE FUTURE. 16. Future Challenges. Glossary. References. Name Index. Subject Index.
Most relevant reviews
by

Great value

It's a very interesting book ....... ..... .... ....... . ., ...."......................... .......................... ...........................

by

Great value for the money!!

An Introduction to Behavior and Health by Linda Brannon and Jess Feist (2009, Hardcover) is for my under-Grad school. Find best deal here on e-bay. Great price.

by

An Experience to Repeat

I have enjoyed the buying expereience and I was attracted to it due to the compelling cost of the book.