Nowhere to Run by Mary Jane Clark (2005, Paperback)
---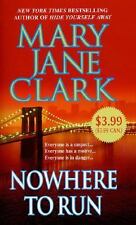 $1.00+ $3.00 Shipping
Est. Aug. 8 - Aug. 15 deliveryFrom Maple Heights, Ohio
---
More options
$4.75 Buy It Now
Free shipping

$3.97 Buy It Now
Free shipping

$3.97 Buy It Now
Free shipping
Great Prices on Fiction & Literature

About this product
Synopsis
Synopsis

Botulism, anthrax, smallpox, plague: as medical producer for television's highly-rated morning news program, Annabelle Murphy makes her living explaining horrific conditions to the nation. So when a KEY News colleague dies with symptoms terrifyingly similar to those of anthrax, she knows the panic spreading through the corridors of the Broadcast Center is justified. As one death follows another, Annabelle's co-workers look to her for assurance, but she finds it hard to give comfort. To her, the circumstances surrounding the infections suggest diabolical murders. And when the authorities lock down the Broadcast Center with the identity of the killer still unknown, neither the victims nor the murderer can escape....
Product Identifiers
ISBN-10

0312938047

ISBN-13

9780312938048
Key Details
Author

Mary Jane Clark

Number Of Pages

352 pages

Format

Paperback

Publication Date

2005-04-05

Language

English

Publisher

St. Martin's Press
Dimensions
Weight

6 Oz

Height

1 In.

Width

4.2 In.

Length

6.8 In.
Classification Method
Dewey Decimal

813/.54

Dewey Edition

21
Reviews
Reviews

"The dexterity in keeping so many guilty-looking characters afloat at once and the revelation of a truly surprising killer make Clark's sixth dispatch from KEY News her best." -Kirkus Reviews "Clark has perfected the suspense novel, where in classic Christie fashion, everyone is a potential suspect...timely, and downright fun."-Booklist "A fast-paced story line...a winner. Readers will appreciate this strong whodunit." -Midwest Book Reviews "Clark...brings to her novels the insider's knowledge of an industry known for its cutthroat competition, adulation of youth, and the all-important need to look good on camera. All of which makes for fun reading. The story unfolds in tasty sound bites."-Orlando Sentinel "Impossible to put down."-Library Journal "Clark brings a network news producer's sensibility to the story of a newsroom in the throes of anthrax-induced pandemonium...brisk dialogue and rapid-fire action sequences...the yarn entertains with a little network gossip and a short lesson in bio-terror."-Publishers Weekly
Most relevant reviews
by

excellent choice

a great read, ms clark's story telling is a gift, can't wait for more books of this caliber , hard to put down, (as is all of her books).