Nostradamus [Deluxe] by Judas Priest (CD, Jun-2008, 2 Discs, Epic (USA))
---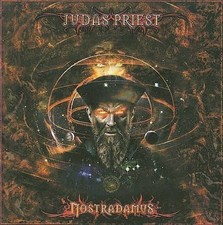 $33.97Free shipping
Est. Feb. 19 - Mar. 3 deliveryFrom North Carolina
About this product
Album Features
UPC:
886973155127
Artist:
Judas Priest
Format:
CD
Release Year:
2008
Record Label:
Epic (USA)
Genre:
Hard Rock, Rock & Pop
Number Of Discs:
2
Track Listing
1. Dawn of Creation
2. Prophecy
3. Awakening
4. Revelations
5. The Four Horsemen
6. War
7. Sands of Time
8. Pestilence and Plague
9. Death
10. Peace
11. Conquest
12. Lost Love
13. Persecution
DISC 2:
1. Solitude
2. Exiled
3. Alone
4. Shadows in the Flame
5. Visions
6. Hope
7. New Beginnings
8. Calm Before the Storm
9. Nostradamus
10. Future of Mankind
Details
Playing Time:
103 min.
Producer:
Glenn Tipton, K.K. Downing
Distributor:
Sony Music Distribution (
Recording Type:
Studio
Recording Mode:
Stereo
SPAR Code:
n/a
Album Notes
Personnel: Rob Halford (vocals); Glenn Tipton, K.K. Downing (guitar, guitar synthesizer); Ian Hill (bass guitar); Scott Travis (drums).Audio Mixers: Glenn Tipton; K.K. Downing; Atti Bauw.Recording information: The Old Smithy Studio, England.Arrangers: Glenn Tipton; K.K. Downing; Rob Halford.On 2005's (almost) divine comeback album Angel of Retribution, Judas Priest fans got a modern day update of the band's genre-bending 1976 classic, Sad Wings of Destiny. The New Wave of British Heavy Metal legends return to the mines for 2008's Nostradamus, though this time it's another band's treasure they're looting, specifically Iron Maiden's 1988 concept album, Seventh Son of a Seventh Son. Heavy metal's obsession with seers, sorcery, and anything else that falls under the nebulous blanket of the "dark arts" is legendary, and Maiden's loosely knit tale of a visionary "chosen one" provided listeners with one of the last great albums of the pre-grunge, epic metal era, due in part to some truly memorable songs that remain fan favorites even to this day. Nostradamus, on the other hand, manages to live up to nearly every Spinal Tap clich' (non-deliberate, laugh-inducing cover art; melodramatic spoken word interludes; rhyming "fire" with desire). At nearly two hours long, one expects a certain amount of filler, but the dated keyboard strings, soft piano, and bluesy, minor-key guitar licks that populate every nook and cranny in between (and often throughout) each track sound like discarded incidental music from The X-Files or an RPG video game "cut scene." The songs themselves are hit or miss, with the emphasis falling on the latter, due mostly to an over-reliance on three-chord, midtempo filler, but as is the case with nearly every Priest offering, when they're on they're dead on. Disc one closer "Persecution," after a lengthy organ/guitar intro, unleashes Nostradamus' finest six minutes, boasting one of the best choruses the band has produced since 1988's "Hard as Iron" (few things sound as natural and satisfying as Rob Halford's metallic voice running through a phaser, and his signature scream, when it arises, still has no equal). The predictable but effectively apocalyptic "War" (taking a cue from Holst's Mars, Bringer of War) spawns one of the few great orchestral breakdowns on the record, while both "Death" and the nearly seven-minute title track feature stunning guitar work from Glenn Tipton and K.K. Downing. None of this, however, can save Nostradamus from the fact that even if it were reduced to a single album (it should have been), its flaws would far outweigh its triumphs. Excess and metal go together like blood and guts, but even gore loses its ability to draw a reaction after the umpteenth beheading. [This Deluxe Edition included an insert with a code to receive a general-admission ticket ("while supplies last") to a Judas Priest concert during summer 2008.] ~ James Christopher Monger
Most relevant reviews
by

Nostradamus - Judas Priest extends themselves.

Judas Priest push the boundries of what you might expect from them here. The usual soaring Rob Halford vocals are largely absent - more alto than soprano, which I wasn't expecting. Once acustomed to Rob's lower registered voice, the album was amazing. The album incorpoartes acoustic tracks and some orchestration, expanding the band's musical range and reach.
A must have.
Strongly recommended.