Nintendo Wii U (Latest Model)- Deluxe 32 GB Black Handheld System
---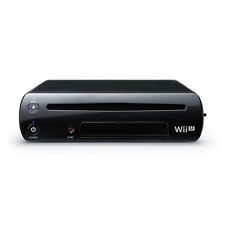 $134.98Free shipping
Est. Jul. 26 - Jul. 29 deliveryFrom Waltham, Massachusetts
About this product
Product Description
Product Description

The Nintendo Wii U puts the "control" in controller. Where other game consoles have simple controllers, the Wii U gamepad is a handheld console in its own right. Nintendo has always been about backwards compatibility, so the Wii U is backwards compatible with existing Wii games as well as the new Wii U library. Unlike previous Nintendo consoles, the Wii U introduces HD support to the Nintendo lineup. This 32 GB console has plenty of space for onboard games, and the touchscreen on the controller lets you play some games without even using the TV. For instance, throw on Mario Kart 8 and get ready for the race of a lifetime.
Product Identifiers
Brand

Nintendo

Product Name

Nintendo Wii U

UPC

045496880866

Product Line

Nintendo Wii
General
Type

Handheld System

Console Color

Black

Release Date

11/18/2012

Device Input Support

Game pad,Remote Control,Wireless Gaming Controller

Video Color Output

Color

Edition

Deluxe
Audio
Audio Output Support

Stereo
Power & Battery
Power Source Types

Power Adapter - external
Dimensions
Height

1.8 in.

Weight

3.53 lb

Width

6.8 in.

Depth

10.5 in.
Display
Display Type

LCD

Display Size

6.2 in.
Technical Details
Supported Media

Nintendo Wii Disc

Video Outputs

Component Video,HDMI,RGB,S-Video

Internet Connectivity

Wireless

Region Code

North America

CPU

IBM
Features
Product Features

Nintendo TVii
Nintendo TVii enables you to find, watch, and engage with TV shows, movies and sports programming, all from the Wii U GamePad. You can search for programs across Wii U Video Entertainment, TV channels and your own TiVo DVR. This service will be available in the United States and Canada at launch for users with a broadband wireless Internet connection.
Video entertainment
Netflix, Amazon, YouTube and Hulu are all developing applications for the Wii U console that take advantage of the integrated second-screen experience. Additional details will be released at a later time.
Miiverse
Miiverse is an online gaming community that lets you share experiences, discuss games and discover new content with gamers from around the world. Using your Mii character within Miiverse, you will see games, applications or entertainment content that either you have used recently, expressed interest in learning more about or that your friends are using or discussing.
Near Field Communication (NFC)
Imagine a physical object in the real world affecting the game world right before your eyes... Using NFC technology, the Wii U GamePad has the capability to communicate wirelessly with objects that are held above it. This technology will allow for a variety of new possibilities for games and activities in the future.
Internet browser
Using the second screen of the Wii U GamePad and your home television, enjoy a fun and intuitive way to surf the Internet from the comfort of your couch.

Country Region

North America