Nintendo Game Boy Advance SP Silver Handheld System
---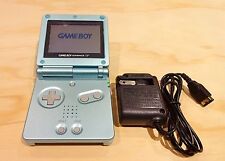 $124.95Free shipping
Est. Aug. 3 - Aug. 8 deliveryFrom Fresh Meadows, New York
Great Prices on Video Game Consoles
About this product
Product Description
Product Description

Take your retro gaming Game Boy addiction to the next level with the silver Game Boy Advance SP. This stylish flip-top handheld device is a compact and highly portable way to get your fix of gaming action on the go. The perfectly-angled screen has an integrated light for gaming in any light conditions, and the rechargeable lithium-ion battery offers up to 10 hours of illuminated gameplay for three hours of charge time. With the Game Boy Advance SP, you have access to classic Nintendo games, including 'Super Mario Brothers 2,' 'Advance Wars,' and 'Super Mario World,' letting you pack every car journey and morning commute with adventure.
Product Identifiers
Brand

Nintendo

Product Name

Nintendo Game Boy Advance SP

UPC

4988601004060

Product Line

Nintendo Game Boy
General
Type

Handheld System

Console Color

Silver

Device Input Support

4-Way Cross Keypad

Video Color Output

Color
Audio
Audio Output Support

Stereo
Power & Battery
Battery UpTime

Up To 18 Hours

Battery Type

Rechargeable Lithium-Ion
Dimensions
Height

0.94 in.

Weight

0.32 lb

Width

3.19 in.

Depth

3.27 in.
Display
Display Type

LCD

Display Size

2.9 in.
Technical Details
CPU Cache

96 KB

Processor Quantity

1

Ram Technology

WRAM

Supported Media

Cartridge

Ram Capacity

32 KB

Region Code

Japan

CPU

Sharp ARM7TDMI
Features
Product Features

Brighter backlit screen
The amazing backlit screen brings out the sharpness and graphic richness of the huge library of Game Boy Advance games. It delivers an unsurpassed gameplay experience.
Adds two colors
Nintendo adds two great members to the already-colorful portable lineup. Pick up the one that best fits your personality!
Same low price
Not only did Nintendo improve the world's most popular handheld, Nintendo did it without raising the price!

Country Region

Japan
Hard Drive
Hard Drive Cache

32 KB WRAM