Nikon Speedlight SB-80DX Shoe Mount Flash
---
OUR TOP PICK
$119.00
+ $20.00 Shipping
delivery
Est. Sep 12 - Sep 29From Japan
Returns
Buyer pays return shipping
---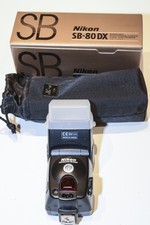 About this product
Description
Description

The heir of SB-28 comes with a range of exciting additional functionalities and a couple of innovative features. Nikon SB-80DX has multi sensor balanced flash control, a built-in wide flash adapter, and a tilt-rotate flash head. It is best suited for the needs of individuals who shoot with advanced Nikon SLRs. It also works perfectly with all of the Nikon film cameras. The speedlight flash for Nikon is characterized by impressive coverage of up to 105mm and comes equipped with a high quality AF-Assist illuminator. Flash output compensation and wireless control add even further to the quality and ease of using the Nikon speedlight flash.
Product Identifiers
Brand

Nikon

Model

SB-80DX

UPC

18208047178
Key Features
Guide Number

100 ft/ISO 100

Lens Coverage

24mm - 105mm

Supported Exposure Control

TTL
Bounce
Vertical Rotation Angle

+90 / -7

Horizontal Rotation Angle

+180 / -90
Other Features
Zoom

Automatic

Manual Power Control Levels

1/1,1/128,1/16,1/2,1/32,1/4,1/64,1/8

Additional Features

AF illuminator,Flash +/- compensation,Illuminated LCD display,Modeling flash capability,Wireless off-camera control

Required Battery

4 x battery - AA type

Color

Black
Dimensions
Width

5.04 in.

Height

2.8 in.

Depth

3.62 in.

Weight

11.82 oz
This item doesn't belong on this page.
Thanks, we'll look into this.