Night Owl DVD, 2004
---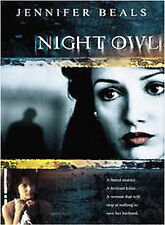 $5.89Free shipping
Est. Jul. 30 - Aug. 6 deliveryFrom Litchfield, Minnesota
Top Selling in DVDs & Blu-ray Discs
Great Prices on DVDs & Blu-ray Discs

Most relevant reviews
by

Night Owl starring Jennifer Beals (of Flashdance)

This time, the Night Owl is a predatory woman serial man killer on the loose in New York city. Since she's got access to a night radio show, or so it seems to the men who hear her, it's through this medium that her seductive voice is able to lure men into her death traps.

Jennifer Beals (Flashdance) convincingly stars as the wife of one of the Night Owl's next prey. This is an on the edge of your seat suspenseful thriller as the killer selects her murder victims so carefully that she doesn't leave behind a witness or a trace.

Not wanting to loose her husband, the story comes down to one courageous woman (Beals), who is determined to go the distance it takes to save her love and rid the city of the eerie predator. It is 91 minutes for mature adult audiences only.

by

I remember seeing this on TV

It was alright. I am only buying it because my brother had a minor role as one of the Jennifer Beals'characters clients.