NBA Inside Drive 2003 (Microsoft Xbox, 2002) - European Version
---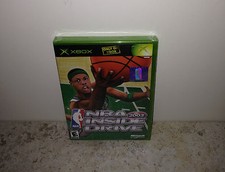 $24.99Free shipping
Est. Feb. 12 - Feb. 18 deliveryFrom Simi Valley, California
About this product
Product Information
Microsoft's exclusive basketball franchise continues on the Xbox with the release of NBA Inside Drive 2003. In addition to updated rosters to reflect the 2002-2003 season, players will be able to guide their team through 25 seasons with the new Dynasty Mode. As players strive to build a championship franchise, they will be able to make unbalanced trades, participate in a rookie draft, and even trade future picks to other teams. Dynamic Player Performance allows for hot and cold streaks to develop in athletes based on how well they are playing during the season, adjusting their ratings accordingly at the end of the year.

Other enhancements include a Create Player option, a chance to edit the ratings of existing players, and an ability to win trophies and store them in a special case viewable from the menu screen. The presentation has also been addressed with a greater variety of dunks, more than 1,000 animations, and redesigned player models. Kevin Calabro and Marques Johnson once again call the action from the booth but are joined by Kenny Smith for added commentary and halftime analysis. For those wishing to brush-up on the retooled post-up game and team-specific playbooks, Practice Mode offers users a chance to hone their skills as well as play a little two-on-two on a choice of courts.


Product Highlights
Video


Product Identifiers
Game
NBA Inside Drive 2003
MPN
0805529150973
UPC
0805529150973


Key Features
Platform
Xbox


Tech Details
Control Elements
Gamepad/Joystick
Number of Players
1-4
Release Year
2002
Game Special Features
Master the game in "Practice" mode, then take on a few friends and wipe the court with them


Featuring play-by-play commentary by Kevin Calabro and Marques Johnson


Manage your team through 25 seasons as they gain experience and improve their skills


Game Series
NBA Inside Drive


Most relevant reviews
by

Its a really good game

This game has great graphics and great gameplay. It has a 25 year franchise mode that lets you take full control of the team. This has create a player and draft mode. Or you can just go season to season and still gm a team for one season.You gain awards and so do the players as you progress and have a trophy case you can fill, if your good enough. The post game run down is really cool. This really has all the options you would find in an ea sport title. For the price you can find it, it is worth buying.
This is a really good game.