Moonflower by Santana (CD, Nov-1987, 2 Discs, Columbia (USA))
---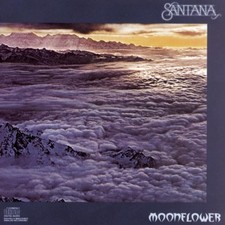 $9.99Free shipping
Est. Jul. 26 - Aug. 2 deliveryFrom United States
---

$10.00 Buy It Now
Free shipping

About this product
Album Features
UPC:

074643491426

Artist:

Santana

Format:

CD

Release Year:

1987

Record Label:

Columbia (USA)

Genre:

Hard Rock,Rock & Pop

Number Of Discs:

2
Details
Playing Time:

87 min.

Distributor:

Sony Music Distribution (

Recording Type:

Mixed

Recording Mode:

Stereo

SPAR Code:

n/a
Most relevant reviews
by

Santana's best

IMHO "Moonflower" is the best album Carlos has ever released. The mix of well done studio tracks with live performances. This is without a doubt the finest line-up of musicians Carlos has put together. Carlos with his "as usual" screaming leads, blistering keyboard riffs from Tom Coster, and a top-notch percussion section led by a 70 year old (at that time) Armando Peraza. Any true Santana fan already knows what is contained in this CD, but if your new to Carlos and the boys, THIS IS A "MUST OWN" CD.

by

'da old version, it is more real, shar.

One of the few cases in which the "remastered" new version takes away from the impact of the music, the original version of Moonflower is slightly "more raw" in timing, pace, music ranges-- and more alive.

Most people cannot tell the difference between this one and the remaster reissue, but if you can tell the difference, this one has a tiny edge, but an edge.