Moleskine Plain Soft Reporter Notebook Large by Moleskine (2010, Print, Other)
---
OUR TOP PICK
quantity
5 available / 1 sold
delivery
Est. Sep 1 - Sep 9From Indian Trail, North Carolina
Returns
Buyer pays return shipping
---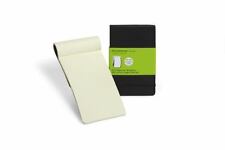 $15.60 Buy It Now
Free shipping

$15.50 Buy It Now
Free shipping

$15.42 Buy It Now
Free shipping
Great Prices on Nonfiction
About this product
Synopsis
Synopsis

Inspired by the journalistic tradition, the Moleskine Reporter notebooks give users new ways to express their ideas. The soft cover notebooks sport the same expandable pocket and elastic enclosure as their siblings, with a flexible cardboard cover and acid-free paper pages. The last 24 pages of each notebook are detachable. Moleskine quality and history turned on its side. Now available in a soft cover format.,Large PLAIN SOFT REPORTER NOTEBOOK A new way to express your ideas. For notes, sketches and drafts. Last 24 sheets are detachable. 192 pages.,The Soft Cover Large Plain Moleskine Reporter notebook has a cover that flips opens at the top, 24 detachable pages at the back for quick notes on the spot and can be used both horizontally and vertically. Every Moleskine product is thread bound and has a cardboard bound cover with rounded corners, acid free paper, a bookmark, an elastic closure and an expandable inner pocket that contains the Moleskine history.
Product Identifiers
ISBN-10

8862933029

ISBN-13

9788862933025
Key Details
Author

Moleskine

Number Of Pages

240 pages

Series

Reporter Notebooks Ser.

Format

Print, Other

Publication Date

2010-01-27

Language

English

Publisher

Moleskine
Dimensions
Weight

9.6 Oz

Height

0.2 In.

Width

5.1 In.

Length

8.3 In.
Target Audience
Group

Trade

Grade From

Preschool

Grade To

College Graduate Student
This item doesn't belong on this page.
Thanks, we'll look into this.