Microsoft Xbox 360 S Call of Duty: Modern Warfare 3 Limited Edition Bundle 320 GB Silver Console (PAL)
---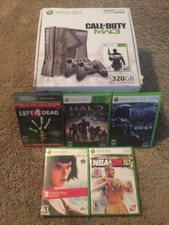 About this product
Product Highlights
Video


Product Identifiers
Brand
Microsoft
Product Name
Microsoft Xbox 360 S
Product Line
Microsoft Xbox


General
Type
Console
Color
Silver
Edition
Call of Duty: Modern Warfare 3 Limited Edition Bundle


Dimensions
Height
7.24 in.
Weight
10.93 lb
Width
12.01 in.
Depth
11.5 in.


Technical Details
Ram Technology
GDDR3
Internet Connectivity
Wired, Wireless
Region Code
PAL
CPU
IBM PowerPC


Hard Drive
Hard Drive Capacity
320 GB


Most relevant reviews
by

Absolutely love this console

The MW3 Xbox 360 performs flawlessly, and looks amazing while doing it. The black chrome accents are a great style point, and make the MW3 console and controllers really stand out. Also, with the 320GB hard drive, you don't have to worry about running out of space.

by

well it was great product for my grandson

- Why you bought it: The reason i got this was myu grandson birthday and thats what he wanted.
- What you like most about it: the price it cost
- What you dislike about it: can say cause its @ my grandson house.
- Whether or not you would buy the product again: dont know cause that what my grand son wanted it?