Microsoft Xbox 360 Kinect Star Wars Limited Edition 320 GB Matte White Console (NTSC-U/C (US/CA))
---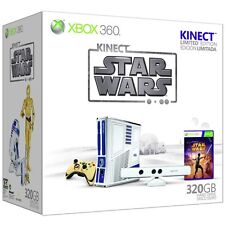 $280.00+ $24.99 Shipping
Est. Aug. 4 - Aug. 11 deliveryFrom Brooklyn, New York
Great Prices on Video Game Consoles
About this product
Product Description
Product Description

Awaken the force from the comfort of your home, with the Microsoft Xbox 360 Kinect Star Wars Limited Edition 320 GB Matte White Console. A unique custom designed console is the jewel in the crown, with a cool white and blue finish and similar iconography as it found on the legendary R2-D2. Gamers can complement the stylish finish of the console with a brushed gold controller that is reminiscent of R2's constant companion, the paranoid android C-3PO. An included white Kinect Sensor allows gamers to immerse themselves into the Star Wars universe more completely than ever before, and the massive 320 GB hard disk drive provides plenty of space for a bunch of other games besides. Take gaming to the next level with the Microsoft Xbox 360 Kinect Star Wars Limited Edition.
Product Identifiers
Brand

Microsoft

Product Name

Microsoft Xbox 360

UPC

885370332889

Product Line

Microsoft Xbox
General
Type

Console

Console Color

Matte White

Release Date

1/6/2012

Device Input Support

Wireless Gaming Controller

Video Color Output

Color

Edition

Kinect Star Wars Limited Edition
Audio
Audio Output Support

5.1 Channel Surround,Stereo
Power & Battery
Power Source Types

Power Adapter - external
Dimensions
Height

7.2 in.

Weight

10.9 lb

Width

12 in.

Depth

11.5 in.
Technical Details
Ram Technology

GDDR3

Supported Media

CD-ROM,DVD-ROM

Internet Connectivity

Wireless

CPU

IBM Xenon 3.2 GHz
Features
Product Features

Built in Wi-Fi
The new Xbox 360 is the only console with 802.11n Wi-Fi built in for a faster and easier connection to Xbox LIVE. Download or stream HD movies, TV episodes, and games from Xbox LIVE Marketplace in 1080p and 5.1 surround sound from anywhere in the house. Compatible with b/g/n networks.
Kinect ready
Kinect, the latest in motion sensor technology, will make YOU the controller. With a dedicated, specialized port, the Xbox 360 250GB is built to connect seamlessly with the Kinect sensor - and have you up off the couch and into the world of Kinect in no time.
Xbox 360 Wireless Controller
This award-winning, high-performance wireless controller features the Xbox Guide Button for quick, in-game access to friends and music. It has a range of up to 30 feet and a battery life of 30 hours on two AA batteries.
Xbox LIVE
Xbox LIVE brings a whole world of entertainment possibility right to your Xbox 360. Play with friends online, and watch streaming movies and TV from Zune and Netflix, all in crystal-clear HD. You'll find loads of your favorite music from Last.fm and the ability to connect with friends on Facebook and Twitter right on the best screen in the house.

Features

Kinect Ready
Hard Drive
Hard Drive Capacity

320 GB