Microsoft Xbox 360 Elite Lego Batman and Pure Bundle 120 GB Matte Black Console (52V-00092)
---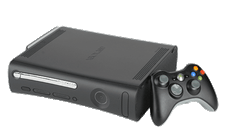 About this product
Product Description
Product Description

The Xbox 360 gives you more than entertainment; it gives you digital virtual entertainment. This Xbox black integrates high-definition video, DVD movie playback, digital music, photos, and online connectivity into one small sleek box. This 120GB Microsoft Xbox has a 12x dual-layer DVD-ROM drive, which plays both the game media and progressive-scan DVD movies. The Xbox 360 has an amazing storage of 120GB for saving game and media. This cool Xbox black allows users to supplement any game's music from tracks in their own personal library. This 120GB Microsoft Xbox can house up to 4 wireless controllers and has three USB 2.0 slots to use for wired controllers or for streaming your digital media. Make gaming, a serious activity with the Xbox 360.
Product Identifiers
Brand

Microsoft

Product Name

Microsoft Xbox 360 Elite

UPC

882224390248

Product Line

Microsoft Xbox
General
Type

Console

Console Color

Matte Black

Edition

Lego Batman and Pure Bundle
Audio
Audio Output Support

Stereo
Power & Battery
Power Source Types

Power Adapter - external
Dimensions
Height

3.27 in.

Weight

7.7 lb

Width

12.15 in.

Depth

10.15 in.
Technical Details
Ram Technology

GDDR3

Supported Media

CD-ROM,DVD-ROM

Region Code

United States

CPU

IBM Xenon 3.2 GHz
Features
Product Features

Xbox 360 120GB hard drive
The 120GB detachable hard drive allows gamers to save their games and store television shows, movies, music, pictures, trailers, levels, demos, and other content available from Xbox LIVE marketplace.
Xbox 360 wireless controller
This award-winning, high performance wireless controller features the Xbox guide button for quick, in-game access to friends and music. It has a range of up to 30 feet and a battery life of up to 30 hours on two AA batteries.
Xbox 360 headset
Now available in black, the headset lets gamers strategize or trade taunts while playing games and send voice messages to friends on Xbox LIVE.

Country Region

United States
Hard Drive
Hard Drive Capacity

120 GB