Make 'Em Laugh by Steve Allen (1993, Hardcover)
---
OUR TOP PICK
delivery
Est. Aug 29 - Sep 12From United States
Returns
Buyer pays return shipping
---

$3.97 Buy It Now
Free shipping

$3.97 Buy It Now
Free shipping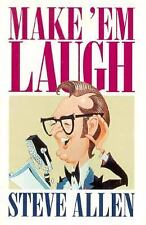 About this product
Synopsis
Synopsis

No Marketing Blurb,Surveys the history of American comedy, offers advice on creating funny speeches, monologues, sketches, essays, letters, cartoons, song lyrics, and jokes, and discusses plagiarism.,The success of Steve Allen's How To Be Funny led first to the republication of that book, and now occasioned a companion volume, Make 'Em Laugh. This new how-to book about the art of comedy includes an even richer assortment of examples of the author's unique humor. In Make 'Em Laugh, Allen laces his formal instruction with hilarious ad-libs, written jokes, TV comedy sketches, satires, song parodies, humorous essays, amusing autobiographical reminiscences, one-act plays, witty speeches, and stand-up monologues from his comedy concerts. Noel Coward called Steve Allen the most talented man in America, and he is probably the most borrowed-from comedian of all time. The perceptive reader will recognize many of the comic ideas that Allen originated during the "Golden Age" of television comedy - ideas that are still influential in the 1990's. If there were a college course in creating and performing comedy, Make 'Em Laugh would be the ideal textbook.
Product Identifiers
ISBN-10

0879758376

ISBN-13

9780879758370
Key Details
Author

Steve Allen

Number Of Pages

339 pages

Format

Hardcover

Publication Date

1993-09-01

Language

English

Publisher

Prometheus Books, Publishers
Dimensions
Weight

24.1 Oz

Height

1.3 In.

Width

6.3 In.

Length

9.3 In.
This item doesn't belong on this page.
Thanks, we'll look into this.