Magic: The Gathering (PC, 1997)
---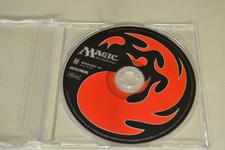 $15.99+ $3.50 Shipping
Est. Jul. 30 - Aug. 4 deliveryFrom Vancouver, Washington
About this product
Product Information
Product Information

The world of Shandalar has been gripped by evil. Five wizards are gathering energy in the land, each trying to amass enough power to cast the Spell of Dominion, granting the caster immortality and dominion over the entire plane. Into this fray a wandering, amateur spellcaster is thrust, given the task of thwarting the nefarious plans of the five wizards.

This is the storyline behind the strategy game portion of Magic: The Gathering, the PC adaptation of the wildly popular card game. Players collect decks of virtual "cards" which allow them to cast spells and defend against the spells of others. In a standard game of Magic, each combatant begins with 20 life points, and the first one that is reduced to zero is the loser. In the PC game, the player can either duel one-on-one against a computer-controlled opponent, or he can venture into the adventure world of Shandalar and duel against monsters that each possess a deck tailored to its personality.

In addition to 400 cards drawn from various Magic card sets, the PC version of Magic: The Gathering also comes with 12 new cards from the Astral Set, designed exclusively for use in the game. Various other utilities are included, such as a multimedia tutorial designed for the Magic beginner, as well as a deck builder utility which aids the player in constructing card decks.
Product Identifiers
Publisher

MicroProse Software, Inc.

Game

Magic: The Gathering

MPN

019703421470

UPC

019703421470
Key Features
Platform

PC

ESRB Rating

E - Everyone

Genre

Strategy

Location

USA
Tech Details
Control Elements

Keyboard,Mouse

Number of Players

1

Release Year

1997