Madden NFL 2002 (Microsoft Xbox, 2001)
---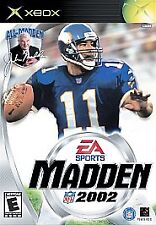 $9.99Free shipping
Est. Jun. 2 - Jun. 7 deliveryFrom Little Neck, New York
About this product
Product Information
Product Information

EA SPORTS' longest running sports franchise makes its Xbox debut with Madden NFL 2002. Thirty-two NFL teams, including the Houston Texans, are available to play as or against in the following six game modes: Exhibition, Season, Franchise, Tournament, Custom League, and Practice. The 3D motion-captured players include real-life faces, body types, and a variety of on-field animations to help re-create the NFL experience. Veteran broadcasters John Madden and Pat Summerall once again handle the commentary as players take the field.

The main aspect of play is Franchise mode, where players learn how to manage a team's roster to deal with retirement, free agency, and attributes that change from year to year. To help maintain a level of consistency among personnel, players can participate in a NFL draft to acquire rookies or sign free agents. Options available during the Franchise mode include coaching changes, where the coach may resign if he isn't winning, a trade deadline, salary cap, cap penalties, a 47-round fantasy draft, and an expansion draft for either the Houston Texans or a created team.

A number of options also exist under Practice, where players learn aspects of control and strategy. In addition to standard practice, where one or two teams run through specific plays, Training, Situation, and Two-Minute Drill modes are available. Training is a series of exercises done under the tutelage of John Madden. Situation lets players try to come back from a deficit late in the fourth quarter, while the Two-Minute Drill involves scoring as many points as possible within the final minutes of regulation. Players can also earn tokens in this mode and in Training, allowing them to purchase packs of Madden Cards as they would in a normal game.

First introduced in 2000, Madden Cards are collectable trading cards used to unlock hidden teams and players or to activate certain cheats. Five types of cards are available to collect: current players, historic players, teams, stadiums, and cheats. These cards can be used during a game, allowing players to reap the rewards listed on the card's back. Tokens are needed to purchase Madden Cards, which are earned by achieving certain milestones like breaking a 30-yard run or passing for over 300 yards. Other notable features include an option to create players, adjust AI settings, customize penalties, and to turn off both fatigue and injuries.
Product Identifiers
Publisher

EA Sports

Game

Madden NFL 2002

MPN

014633143362

UPC

014633143362
Key Features
Platform

Microsoft Xbox

ESRB Rating

E - Everyone

Genre

Sports

Location

USA
Tech Details
Control Elements

Gamepad/Joystick

Number of Players

1-4

Release Year

2001

Game Special Features

All 32 NFL teams including expansion Houston Texans


Build your franchise into a decade dominating dynasty


John Madden and Pat Sumerall in the booth, calling the shots


Detailed player faces and animations deliver the drama of the game


Improve skills using the Training Mode with expert tips from John Madden


New Madden Cards, training mode, and two-minute drill


12th edition of Madden includes all the teams and players of the NFL


For one to four players



Game Series

Madden NFL Series
Most relevant reviews
by

Madden

good game!!!!!!!!!!!!!!!!!!!!!!!!!!!!!!!!!!!!!!!!!!!!!!!!!!!!!!!!!!!!!!!!!!!!!!!!!!!!!!!!!!!!!!!!!!!!!!!

by

WOW awesome

amazing game, if this gameis under 15 dollers i would tottaly buy it, i deffantly would if i didnt haveit already
A++++++++++++++

by

Good, but typical Madden game

Sure this game is pretty fun but it is getting old. Each year Madden gets a tiny bit better but by today's standards playing Madden 2008 on XBOX 360 this game doesn't compare. I bought it because my favorite team (Minnesota Vikings) were good back then so playing with them for a full season is fun.

If your favorite team was good in 2002 buy this game, if not don't bother.