Madagascar: Escape 2 Africa (Microsoft Xbox 360, 2008) - European Version
---
OUR TOP PICK
delivery
Est. Sep 3 - Sep 9From Parrish, Florida
Returns
Buyer pays return shipping
---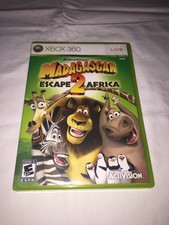 $16.66 Buy It Now
Free shipping
Great Prices on Video Games
About this product
Product Information
Product Information

Similar to the original Madagascar game, Escape 2 Africa plays out in a series of platform levels, featuring exploration, collection quests, and light combat. Players change characters to fit the challenge. Gloria can knock over enemies with her size, and she's also an excellent swimmer. Melman has special healing powers, and the ability to toss objects great distances. When there's a need for speed, Marty's the right zebra for the job, and Alex is a good choice for platform exploration, with his special ability to climb poles and vines.

New characters introduced in the sequel, such as King Julian and Moto Moto, offer their own special abilities and bonuses, and the penguins are back as well. Also like the original game, Madagascar: Escape 2 Africa features a selection of mini-games for single players or a whole family, including soccer, racing, rhythm-based dancing, and safari photography challenges. In a creative collaboration between DreamWorks and Activision, some locations have been expanded for feature in the game, including the Watering Hole, the African Savannah, the Volcano, and others.
Product Identifiers
Publisher

Activision

Game

Madagascar: Escape 2 Africa

MPN

5030917058028

UPC

5030917058028
Key Features
Platform

Microsoft Xbox 360

ESRB Rating

E10+ - Everyone 10+

Genre

Action, Adventure

Location

Europe
Tech Details
ESRB Descriptor

Mild Cartoon Violence, Mild Suggestive Themes, Simulated Gambling

Control Elements

Gamepad/Joystick

Number of Players

1-4

Release Year

2008

Game Special Features

Switch between all the main characters to take advantage of their unique skills


Join friends and play through a host of mini-games


Run and jump through locations based on the motion picture


This item doesn't belong on this page.
Thanks, we'll look into this.