MCSE/MCSA Guide to Managing a Microsoft Windows Server 2003 Environment : Enhanced by Dan DiNicolo and Brian McCann (2005, Paperback)
---
OUR TOP PICK
delivery
Est. Sep 3 - Sep 12From Jacksonville Beach, Florida
Returns
Buyer pays return shipping
---
More options
$6.99 Buy It Now
Free shipping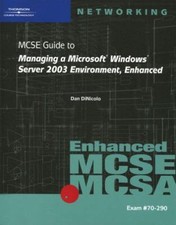 $3.15 Buy It Now
Free shipping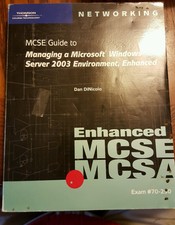 $8.50 Buy It Now
Free shipping
About this product
Synopsis
Synopsis

This full-color hands-on guide book has been enhanced to make learning even easier by offering more detailed lab setup instructions, expanded chapter summaries, and new practice exams that will reinforce the skills learned.
Product Identifiers
ISBN-10

0619217529

ISBN-13

9780619217525
Key Details
Author

Brian McCann,Dan DiNicolo

Number Of Pages

720 pages

Format

Paperback

Publication Date

2005-04-11

Language

English

Publisher

Course Technology
Additional Details
Copyright Date

2006

Illustrated

Yes
Dimensions
Weight

18.2 Oz

Height

1.4 In.

Width

7.3 In.

Length

9.2 In.
Table Of Content
Table Of Content

1. Introduction to Windows Server 2003 2. Managing Hardware Devices 3. Creating and Managing User Accounts 4. Implementing and Managing Group and Computer Accounts 5. Managing File Access 6. Managing Disks and Data Storage 7. Advanced File System Management 8. Implementing and Managing Printers 9. Implementing and Using Group Policy 10. Server Administration 11. Monitoring Server Performance 12. Managing and Implementing Backups and Disaster Recovery 13. Administering Web Resources 14. Windows Server 2003 Security Features Appendices A: Exam Objectives Tracking for MCSE Certification Exam 70-290 Managing and Maintaining a Microsoft Server 2003 Environment B: Detailed Lab Setup Guide C: Expanded Chapter Summaries New Tear-out Practice Exam
This item doesn't belong on this page.
Thanks, we'll look into this.