M*A*S*H (Blu-ray Disc, 2009)
---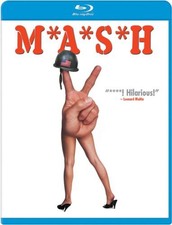 $11.20Free shipping
Est. Feb. 18 - Feb. 25 deliveryFrom Sheperdsville, KY, USA
About this product
With the release of Robert Altman's M*A*S*H in 1970, a new form of comedy was born, one that would help to forever change the face of cinema. Altman's audacious film reflected the American counterculture's growing distrust of religion and government in the late 1960s and early 1970s, resulting in one of the biggest box office smashes of its time. Introducing the techniques he would employ throughout his storied career--overlapping dialogue, a constantly moving camera with a heavy amount of zooming, and a bold combination of frank subject matter with cynical humor--Altman immediately vaulted himself to Hollywood's upper ranks. Based on the novel by Richard Hooker, M*A*S*H follows a group of Mobile Army Surgical Hospital officers as they perform surgery and pass the time just miles from the front lines of the Korean conflict. Led by sardonic captains "Hawkeye" Pierce (Donald Sutherland) and "Trapper" John McIntyre (Elliott Gould), the film has the feel of an absurd three-ring circus. Other characters include the uptight nurse "Hot Lips" O'Houlihan (Sally Kellerman), the confused Major Frank Burns (Robert Duvall), the troubled Captain "Painless" Waldowski (John Shuck), and the simpleminded Captain "Duke" Forrest (Tom Skerritt). Altman's decision to present his film as a series of loosely connected vignettes rather than a traditionally unfolding narrative perfectly captures the freewheeling spirit so unique to early-'70s cinema.


Product Highlights
Video Trailer:
Product Details
Number of Discs:
1
Rating:
R (MPAA)
Film Country:
USA
UPC:
024543599951
Additional Details
Genre:
Comedies
Format:
Blu-ray Disc
"M*A*S*H* is still funny..." -- Grade: B+
Entertainment Weekly - Ken Tucker (04/21/2006)

"...An inspired, skittish conflict comedy....Subtle, underplayed and poignant..."
Total Film - Daniel Webb (07/01/2003)

"It still boasts a splendid ensemble...and a breezy antiestablishment attitude..."
Premiere - Premiere Staff (08/01/2006)


Most relevant reviews
by

The human side of war.

There are few films that be called a masterpiece- a work of art, this is one that is such, it humanized war in such a way that it makes us laugh and cry it's a film that can still compete/out last most modern films, it's a great film and a must watch for all generations.