Los Super Seven by Los Super Seven (CD, Sep-1998, RCA)
---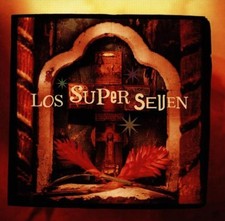 $3.98Free shipping
Est. Aug. 30 - Sep. 7 deliveryFrom United States
About this product
Album Features
UPC:

078636768922

Artist:

Los Super Seven

Format:

CD

Release Year:

1998

Record Label:

RCA

Genre:

Alternative Latin,International
Details
Playing Time:

41 min.

Contributing Artists:

Doug Sahm

Producer:

Steve Berlin

Distributor:

BMG (distributor)

Recording Type:

Studio

Recording Mode:

Stereo

SPAR Code:

n/a
Most relevant reviews
by

Los Super Seven

"Purely Traditional" Mexican folk music featuring a mindblowing level of musicianship bring together an array of early Mexican tradicional sound and storie telling good times and the bad times, life, love and family. Its all good! with violins too!

by

Super Seven Rock!

Who though on reuniting all these talented musicians???? Whoever was, Thankyou! If you like Mellow and at some point relaxing harmonies in Traditional south of the border songs this is it, it will remind you and bring you memories.

by

Good Mix of Mexican Styles

This grammy award winning CD is a must have for those that like Mexican "Folk" Music. True Legends along with young talent make this an All-Star band.