Lois & Clark - Seasons 1 & 2 (DVD, 2006, 2-Disc Set)
---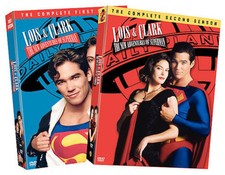 $102.68Free shipping
Est. Jul. 28 - Aug. 10 deliveryFrom Illinois
Most relevant reviews
by

One of the best series on the market.

I have always been a fan of superman and the Lois and Clark seasons 1 and 2 are no exception. The directing and acting is some of the best you'll see on any series. This is a great series for children (my grandchildren love them) and the whole family, to watch over and over again.

by

I Haven't Opened the Package Yet !!!

I Bought This DVD Product to Free Up Memory on My DVR...but...I Haven't Opened the Package as of Yet !