Listen to This! by Mark Evan Bonds (2008, Paperback)
---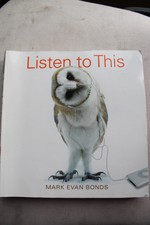 $9.95+ $3.99 Shipping
Est. Jul. 27 - Aug. 3 deliveryFrom Broomfield, Colorado
About this product
Synopsis
Synopsis

Based on five fundamentals introduced in the beginning of the book, Bonds analyzes the great works of the Western repertoire, along with related works in popular, jazz, and world music. Hoping to motivate and inspire students in a lifelong interest in all musical forms, Bonds proceeds chronologically through time, and offers a true listening approach. Within each section, each chapter focuses on a single work, bringing in related information about the composer and his/her times, as needed. The chapters focus on a series of Listening Guides that offer richer analysis and more detailed guidance than any other text, and sidebars on technology and music, the music business, and contemporary culture also enhance the book.,Listen to the music. Hear the elements. Expand your playlist. Informed by over 300 instructor and student reviews, Listen to Thiswas created for today's students. It will expand your students' playlist with its listening-oriented approach and the integration of the musical elements. For the professor, it provides a customizable, modular format that gives you the flexibility to design your ideal music appreciation course. Listen to Thisalso encourages students to explore history, culture, and musical styles through active listening, not just through passive reading. By concentrating on the elements of music, students develop the ability to connect earlier music with their own music. Praised by students and instructors alike for its engaging writing style, stunning design, and flexible format, this text will instill a life-long appreciation and understanding of music in your students by expanding their playlist today!
Product Identifiers
ISBN-10

0131838253

ISBN-13

9780131838253
Key Details
Author

Mark Evan Bonds

Number Of Pages

576 pages

Series

MyMusicLab Ser.

Format

Paperback

Publication Date

2008-11-05

Language

English

Publisher

Prentice Hall Higher Education
Additional Details
Copyright Date

2009

Illustrated

Yes
Dimensions
Weight

37.9 Oz

Height

0.8 In.

Width

9.1 In.

Length

9.5 In.
Classification Method
LCCN

2008-043502

LC Classification Number

MT6

Dewey Decimal

780

Dewey Edition

22
Table Of Content
Table Of Content

The Elements of Music: A Brief Introduction Melody Sci-Tech:The acoustics of melody Rhythm Harmony Cultural Contexts:Illegal Harmony? Texture Timbre Sci-Tech:The acoustics of timbre Dynamics Form Word-Music Relationships Genre Part One: The Middle Ages Part-opener: The Middle Ages The Middle Ages: An Overview Chapter 1. Hildegard von Bingen:Play of Virtues(excerpt) (3:30) Texture.Primarily monophonic. Melody.Primarily conjunct, occasionally disjunct. Cadences. Word-Music Relationships.Primarily syllabic, occasionally melismatic. Rhythm.Primarily free, but at one point in duple meter. Listening Guide Bio: Visions Through Music The Composer Speaks: Hildegard Defends the Practice of Music Cultural Contexts:The Morality Play Expand Your Playlist:Chant(Christian plainchant, Buddhist, Hindu, Islamic, Jewish chant) Chapter 2. San Ildefonso Indians of New Mexico:Eagle Dance(3:00) (Global Connection: Chant) Texture.All voices sing one melodic line together. Word-Music Relationships.Vocables. Voices as instruments. Form.A-B-A. Melody.A terraced melody. Listening Guide Cultural Contexts:The Powwow Expand Your Playlist:Native American Music Chapter 3. Francesco Landini: "Behold, Spring" (1:13) Texture: Polyphonic. Rhythm.Triple meter. Melody. Largely stepwise; each unit ends with a cadence. Form.Shaped by form of text, with repeated text set to same music (ABBA). Word-Music Relationships. Largely syllabic, occasionally melismatic. Listening Guide Bio: The Composer as Poet The Money Trail:Producing a Manuscript Expand Your Playlist:Medieval polyphony (Perotin, Machaut, da Firenze) Chapter 4. Alfonso el Sabio:Songs to the Virgin Maryno. 249, "He Who Gladly Serves" (1:48) Timbre: Contrast between the percussion instruments (two drums) and the wind instruments (two shawms). Form: Repetition and variation of short melodic units throughout (A, B, and C). Texture: Three distinct textures on the sha
Most relevant reviews
by

Great book, but the code for the website was missing.

Just the book need for my college course. Have not had a chance to really get into the boook, but it was a required book for the course I am taking, therefore I'm sure it will be great help to me throughout this semester.

by

Gotta love college textbooks!

I bought the book for a college class, so it was required. I didn't really use it much, but the information is well organized and interesting.