Legends of Wrestling II (Nintendo Game Boy Advance, 2002)
---
OUR TOP PICK
delivery
Est. Sep 2 - Sep 16From US
Returns
Buyer pays return shipping
---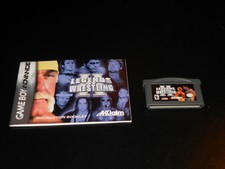 $7.99 Buy It Now
Free shipping

$5.97 Buy It Now
Free shipping
Top Selling in Video Games
Great Prices on Video Games
About this product
Product Information
Product Information

Legends of Wrestling II for Game Boy Advance offers a choice of 40 wrestlers from yesteryear, including Hulk Hogan, Andre the Giant, Sid Vicious, and Roddy Piper, who each possess the trademark moves that made them stars inside the ring. Exhibition, Career, and Tournament represent the three modes of play, with three difficulty settings available for players of varying skill levels. No matter which mode is selected, players will be able to compete in one-on-one bouts, tag team matches, and both three- and four-way "dances" until only one wrestler remains standing.

Exhibition offers a choice of wrestlers and four match types, while Career involves progressing through a series of matches determined by the computer until the character wins the coveted World Championship Belt. A manager provides optional tips between matches, while players choose their next venue using a map of the United States. Winning bouts earns the selected character popularity, represented by a percentage on the map screen, with title matches for each region opening up once popularity reaches 100 percent.

Tournament offers Versus or Tag Team competition with randomly generated brackets. Players must defeat each assigned wrestler, in order, to emerge victorious. In addition to the three modes of play, Legends of Wrestling II features a series of trading cards accessible from the menu screen. Players can view each wrestler's statistics and portrait, with locked profiles becoming available after completing Career mode. Battery backup automatically saves progress and unlocked wrestlers.
Product Identifiers
Publisher

Acclaim Entertainment, Inc.

Game

Legends of Wrestling II

MPN

021481523062

UPC

021481523062
Key Features
Platform

Nintendo Game Boy Advance

ESRB Rating

E - Everyone

Genre

Sports

Location

USA
Tech Details
ESRB Descriptor

Violence

Control Elements

Gamepad/Joystick

Release Year

2002

Game Special Features

Get advice from Captain Lou Albano and Jimmy Hart in between bouts


Learn to perform each character's signature move and taunt opponents inside the ring


Three difficulty levels include Jobber, Mid-Card, and Legend


Perform medium and strong strikes, turnbuckle moves, reversals, combos, and more


Choose one of 40 different wrestlers to compete in four distinct match types



Game Series

Legends of Wrestling Series
Most relevant reviews
by

Great value for the money!

This is a wonderfully fun game to play. A little confusing at first because it came without instructions.

by

Great game for an active boy

This game was purchased for my son who is a huge wrestling fan. He absolutely loves this game and haven't had any complaints about it as of yet.
This item doesn't belong on this page.
Thanks, we'll look into this.