LG myTouch E739 - 2GB - Black (Unlocked) Smartphone
---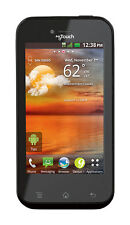 $59.99Free shipping
Est. Jul. 28 - Aug. 10 deliveryFrom Encino, California
About this product
Product Information
Product Information

With easy to use applications and fast speeds for browsing the Internet and downloading content, the T-Mobile myTouch is an excellent choice for a cellular device. This T-Mobile smartphone offers a 3.8-inch diagonal touch screen to navigate all of the phone's features with ease, and contains a WVGA 480x800 pixel resolution. There is a 5 MP front-facing camera found on the smartphone to capture life's special moments, which provides auto-focus technology and a 720-pixel video recorder at 30 fps. There is 2 GB of internal memory available on the T-Mobile smartphone, with an external card slot included to reach up to 32 GB of expandable memory if desired. The T-Mobile myTouch comes with a removable and rechargeable Li-ion battery, giving the use up to 4.02 hours of talk time and up to 312.5 hours of standby time. Take advantage of additional applications such as Google Maps and the Genius Button, which allows users to speak voice commands to the smartphone to make calls, send text messages, and browse the Internet. The T-Mobile smartphone comes in the color black, measures 4.82 inches (height) by 2.46 inches (width) by 0.39 inches (width) and weighs 3.77 oz.
Product Identifiers
Brand

LG

Network

Unlocked

Family Line

LG myTouch

Model

E739

Type

Smartphone
Key Features
Storage Capacity

2GB

Color

Black

Network Generation

3G,4G

Network Technology

GSM,UMTS,WCDMA (UMTS)

Band

GSM 850/900/1800/1900 WCDMA (UMTS) 1700/2100

Camera Resolution

5.0MP
Memory
Supported Flash Memory Cards

MicroSD,MicroSDHC
Display
Display Technology

LCD display
Other Features
Touch Screen

Yes

Bluetooth

Yes

Digital Camera

Yes

GPS

Yes

Email Access

Yes

Internet Browser

Yes
Most relevant reviews
by

Touch screen and operating system are slow and difficult.

The phone its self is physically and aesthetically pleasing but the touch screen and operating system are slow and difficult to operate. Texting is a huge hassle.