Junior's Cheesecake Cookbook : 50 to-Die-for Recipes for New York-Style Cheesecake by Beth Allen and Alan Rosen (2007, Hardcover)
---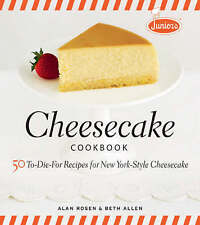 $15.00+ $5.00 Shipping
Est. Aug. 3 - Aug. 8 deliveryFrom Pompano Beach, Florida
Great Prices on Nonfiction
About this product
Synopsis
Synopsis

Baking quite possibly the best cheesecakes in the universe, Junior's Restaurant is a legend in its own right. Located in downtown Brooklyn, Times Square and Grand Central Station in New York, this home away from home has been wooing New Yorkers since it first opened its doors on Election Day, 1950. And now, finally, they are willing to offer up the recipes that have had Brooklynites double-parking on Flatbush Avenue for generations. Included are 50 recipes for Junior's New York-style cheesecakes (all cream cheese, no sour cream, thank you, on a sponge cake crust), from the cheesecake that started it all (Junior's Original New York Cheesecake), to flavor twists like Banana Fudge, Rocky Road, and Pumpkin Mousse, to little cheesecakes meant just for one (called Little Fellas), to Junior's newest creation, Skyscraper Cheesecakes (think alternating layers of cheesecake and layer cake) in flavors like Boston Cream Pie, Lemon Coconut, and Carrot Cake. It's a cheesecake lover's delight,Building Outdoor Structures offers practical, easy-to-follow instructions on enhancing any home's front and backyard with the natural beauty of wood. Starting with the simple uses of wood in landscaping, such as raised beds, author Scott McBride shows the average DIYer how to build retaining walls, arbors, pergolas and 7 other projects, including a gazebo. The book covers everything from choosing materials to building techniques.
Product Identifiers
ISBN-10

1561588806

ISBN-13

9781561588800
Key Details
Author

Alan Rosen,Beth Allen

Number Of Pages

176 pages

Format

Hardcover

Publication Date

2007-10-01

Language

English

Publisher

Taunton Press, Incorporated
Additional Details
Copyright Date

2007

Illustrated

Yes
Dimensions
Weight

26.9 Oz

Height

0.7 In.

Width

8 In.

Length

9 In.
Classification Method
LCCN

2007-001788

LC Classification Number

TX773.R785 2007

Dewey Decimal

641.8/653

Dewey Edition

22
Contributors
Photographed by

Mark Ferri
Table Of Content
Table Of Content

Introduction: The Story of Junior's Cheesecake Junior's Cheesecake 101 Junior's Favorites Cheesecakes with Fruit Celebration Cheesecakes We Love Chocolate! Little Fellas Skyscraper Cheesecakes