Judge and Jury by James Patterson and Andrew Gross (2006, Hardcover)
---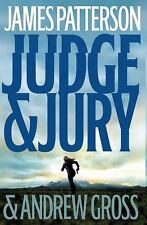 $9.03Free shipping
Est. Jul. 30 - Aug. 6 deliveryFrom Arabi, LA
About this product
Synopsis
Synopsis

Andie DeGrasse, an aspiring actress and single mom, is not your typical juror. Hoping to get dismissed from the pool, she tells the judge that most of her legal knowledge comes from a bit part curling around a stripper's pole in The Sopranos. But she still ends up as juror #11 in a landmark trial against a notorious mob boss. The case quickly becomes the new Trial of the Century. Mafia don Dominic Cavello, known as the Electrician, is linked to hundreds of gruesome, unspeakable crimes. Senior FBI agent Nick Pellisante has been tracking him for years. He knows Cavello's power reaches far beyond the courtroom, but the FBI's evidence against the ruthless killer is iron-clad. Conviction is a sure thing. As the jury is about to reach a verdict, the Electrician makes one devastating move that no one could have predicted. The entire nation is reeling, and Andie's world is shattered. For her, the hunt for the Electrician becomes personal, and she and Pellisante come together in an unbreakable bond: they will exact justice-at any cost. James Patterson spins an all-out heart-pounding legal thriller that pits two people against the most vicious and powerful mobster since John Gotti. Judge & Jury is a stunning feat by "one of America's most influential authors" (New York Times).,From #1 bestselling author James Patterson comes the ultimate legal thriller where the judge and jury are terrified. The verdict: run for your life. Failing to escape jury duty, aspiring actress Andie DeGrasse ends up as Juror #11 in a landmark case. In this new Trial of the Century, a Mafia don known as the Electrician is linked to hundreds of gruesome crimes. Tracking this ruthless killer for years, senior FBI agent Nick Pellisante fears that the defendant's power reaches far beyond the courtroom, even if the FBI's evidence is ironclad. Just as the jury finishes deliberations, the Electrician makes a devastating move that shocks the entire nation - and shatters Andie's world. Now she and Pellisante must hunt for the Electrician before he executes his most horrifying endgame.,Senior FBI agent Nick Pellisante is closing in on the notorious mob boss The Electrician, when the scheduled sting goes spectacularly awry. Two FBI agents are dead, the boss is wounded, and Pellisante vows the Electrician's next move will be from a jail cell. Andie Echeverra, a part-time actress and a single, full-time mom, is assigned her next role as Juror #11 in the landmark trial against Mafia Don Dominic Cavello. Everybody is on edgeNo one has ever crossed the man whose orders have made entire families disappear.Though Cavello's influence extends across blue uniforms and black robes, the case should be open and shut. But the legal system fails.
Product Identifiers
ISBN-10

0316013935

ISBN-13

9780316013932
Key Details
Author

Andrew Gross,James Patterson

Number Of Pages

432 pages

Format

Hardcover

Publication Date

2006-07-31

Language

English

Publisher

Little Brown & Company
Dimensions
Weight

22.9 Oz

Height

1.4 In.

Width

6.2 In.

Length

9.5 In.
Classification Method
LCCN

2006-009662

LC Classification Number

PS3566.A822J83 2006

Dewey Decimal

813/.54

Dewey Edition

22