Jazz Greats Speak : Interviews with Master Musicians by Roland Baggenaes (2008, Paperback)
---
OUR TOP PICK
delivery
Est. Aug 31 - Sep 9From Fairfield, Ohio
Returns
Buyer pays return shipping
---

$38.25 Buy It Now
Free shipping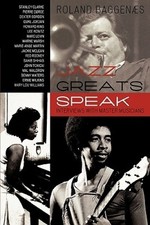 $41.45 Buy It Now
Free shipping
$41.26 Buy It Now
Free shipping
Great Prices on Nonfiction
About this product
Synopsis
Synopsis

Between 1972 and 1987, freelance teacher and music journalist Roland Baggenæs conducted a series of interviews with jazz musicians for CODA magazine. Upon recently re-discovering the interviews, he was once again fascinated by the enthusiasm of the musicians and their profound dedication to their chosen profession. Jazz Greats Speak: Interviews with Master Musicians brings those fascinating discussions into one bound volume. Such jazz artists as Lee Konitz, Mary Lou Williams, Dexter Gordon, Red Rodney, Stanley Clarke, and John Tchicai talk about their art, how they got interested in playing jazz, their influences, and about the many different musicians with whom they worked. The interviewees openly relate in their own words what jazz means to them and, in some cases, share their viewpoints on politics, religion, and their social life and conditions as a jazz artist in America or elsewhere. The book covers a wide area of jazz but emphasizes the period from the early 1940s into the 1960s. In their entirety, the interviews give an insight into the development of jazz, from the early days of the 1920s, over the formative 1940s and 1950s, and up to the new trends of the 1980s. Complete with a beautiful selection of photographs, brief biographies of each participant, and an index, this volume will appeal to lovers of jazz, students of jazz, and anyone interested in finding out what jazz and its corresponding lifestyle is about.
Product Identifiers
ISBN-10

081085922X

ISBN-13

9780810859227
Key Details
Author

Roland Baggenaes

Number Of Pages

164 pages

Format

Paperback

Publication Date

2008-04-18

Language

English

Publisher

Scarecrow Press, Incorporated
Additional Details
Copyright Date

2008

Illustrated

Yes
Dimensions
Weight

9.6 Oz

Height

0.3 In.

Width

6.1 In.

Length

9.1 In.
Classification Method
LCCN

2007-052010

LC Classification Number

ML385.J196 2008
This item doesn't belong on this page.
Thanks, we'll look into this.