Jar of Flies [EP] by Alice in Chains (Cassette, Jan-1994, Columbia (USA))
---
OUR TOP PICK
delivery
Est. Aug 26 - Aug 31From Indianapolis, Indiana
Returns
Buyer pays return shipping
---
More options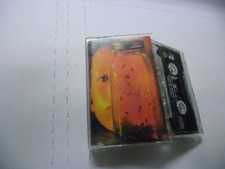 $11.95 Buy It Now
Free shipping
Great Prices on Cassettes
About this product
Album Features
UPC:

074645762845

Artist:

Alice In Chains

Format:

Cassette

Release Year:

1994

Record Label:

Columbia (USA)

Genre:

Grunge,Rock & Pop
Details
Playing Time:

31 min.

Producer:

Alice In Chains

Distributor:

Sony Music Distribution (

Recording Type:

Studio

Recording Mode:

Stereo

SPAR Code:

n/a
Most relevant reviews
by

Alice in Chains - Jar of Flies

Jar of Flies is a studio EP, released on January 25, 1994, by the Seattle, Washington grunge band Alice in Chains through Columbia Records. Jar of Flies marks the first album with bassist Mike Inez. This album was the first EP to ever reach No. 1 on the Billboard 200 United States album chart, and was the only EP to ever gain this distinction until 2004. The EP features Alice in Chains' most radio successful song and two more successful singles for the band. The song "No Excuses" was the only Alice in Chains song to reach the number 1 position on the Billboard Mainstream Rock Tracks chart. "I Stay Away" also reached high positions, and "Don't Follow" had become a modest hit by early 1995.

In 1995, the album was briefly re-released in a limited edition, short-lived format called CD Plus. It contained a 2nd CD of drivers in order to access special computer content on the CD. The key extras were lyrics, discography and the full versions of both of the videos released from the EP, 'I Stay Away' and 'No Excuses'. The picture on the CD itself is the purple/orange photo negative of the one found on the regular release CD.

In addition to the CD, the album was also released in a limited edition double vinyl along with Sap. Jar of Flies was on sides 1 and 2, Sap was on side 3, and an etching of the Alice in Chains logo was on side 4.

The first pressing of the CD contained plastic flies in the spine of the jewel case.Read full review

by

Jar of Flies Alice in Chains (Cassette 1994)

I bought this item because I hate CD's. Cassettes last alot longer. I found a good deal on one of my favorite bands!!!
This item doesn't belong on this page.
Thanks, we'll look into this.